School days are just amazing and mind blowing for anyone. All students just enjoy school days. But there are few kids, who do not like to go to school regularly. But anyhow they manage to go to school and their parents struggle a lot during their school days. When we grow up, we seriously miss those days, when we do not want to go to school. But after completing our school life at the best CBSE Schools, we really miss those moments we spent with our friends, our enjoyable moments.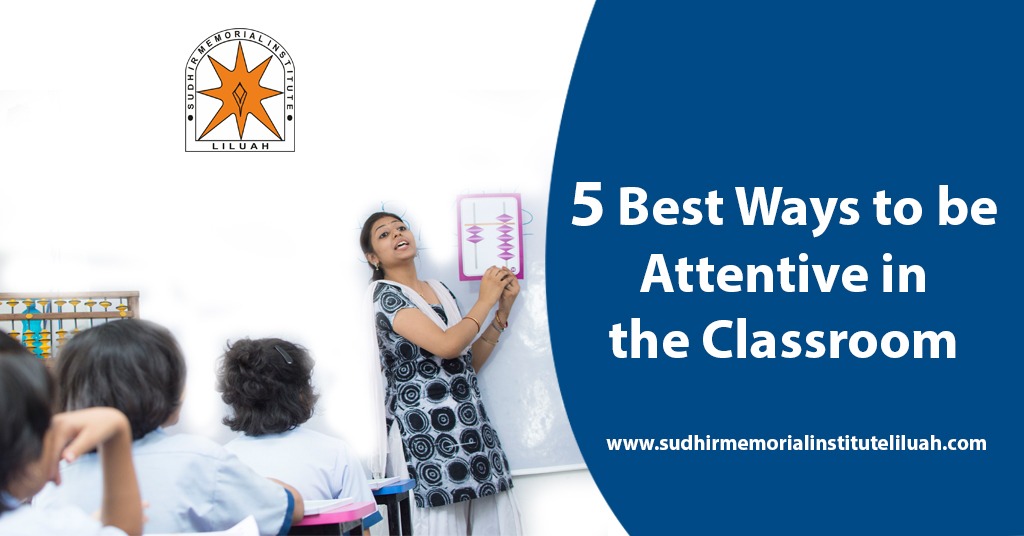 In this blog, you will know about the 5 of the best ways to be attentive in the classroom, be focused during your lectures and don't feel sleepy in the classroom during lectures. It's hard to focus on the lectures when mind of a student wanders to different tasks or thoughts, but few mental tricks, you can be attentive in the classroom. There are lots of CBSE affiliated schools in Howrah and you have to choose the best one for your kids, to secure their future.
So, before discussing about the 5 ways, let's talk about best English medium school in Howrah, from where your child can begin your career.
Sudhir memorial institute is the best CBSE Schools in Howrah, providing the schooling service since many years, and it's a private institution run by S.N.R memorial trust. It is located in Liluah, Howrah, and many students came from very far to enroll their name in this particular school.
Admissions are open for the toddlers to class IX and XI session 2022-2023 at the top school Howrah. So, admit your ward to the best CBSE School in Howrah and make their future shine. Don't be so confused, here are some of the facilities which your kid will get from the top school in Howrah.
Ground plan
Computer rooms
Library
Laboratory
Smart classroom with digital equipment
What else you want from best English medium school in Howrah? Its services are superb, and students enjoyed a lot here while studying. But for few who don't pay attention in the class, for them here are 5 best ways to be attentive in the classroom. These are as follows.
Remove your distractions: – It's very essential for you to remove your distractions in a class by concentrating on what teachers are saying, pay attention towards them. Don't think too much about other things. Distraction includes items like a computer, a phone or an annoying friend or even a window. Physical removal is the best way to deal with distraction. Try to focus on classroom; teachers will probably help you regarding this.
Focus on the present: – You have to try to keep your brain from wandering out of the classroom. No daydreaming is allowed, and don't think of other stuffs like what's going in your home, what your other friends or siblings are doing at home. Catch yourself and then make yourself think about the lesson again.
Talk to your teacher about classes: – Everyone learns in different ways. The way your teacher teaches may not be the best way for you or there may be best ways to make class better for you. If you are serious about learning and you are willing to put in hard work, your teacher will probably willing to help you in come with something.
Prepare before class: – Before the class starts, prepare yourself and make your mind stable, try looking your homework, reading from the textbooks, or looking at the previous day notes. This can get your brain into class mode.
Take notes: – Its very essential part, because taking notes can help you focus on what your teacher is saying. It happens sometimes a student who is not paying attention in the class may forget the lessons, for them it is the best way to remember the lessons or topics. For that, taking notes is very important part.
So, hope you have understood all the related points which are mentioned above in this blog. If you are going to follow these on a very serious note or in a very effective manner, surely, you will get rid of this issue, and never face any such difficulty.
Conclusion
Don't miss the golden opportunity to enroll your name to the best CBSE School in Howrah. Make your kids dream come true by admitting them to the top school in Howrah. For further information's about admission procedure or for any other details, you may visit the website of school.