Concentration power in Kids is a challenger for every groomer and teacher. Distractions can be everywhere, and if adults have difficulty managing it, how do children? The children need help of parents and teachers of school in Howrah to improve concentration.
It is not a child's nature to sit and concentrate on one idea, project or concept. Rather they are distracted by little things happening around them. There are many ways by which CBSE English medium school in Howrah tries to increases concentration power in a child. In this blog, you will get to know about some of the tips to increase concentration level.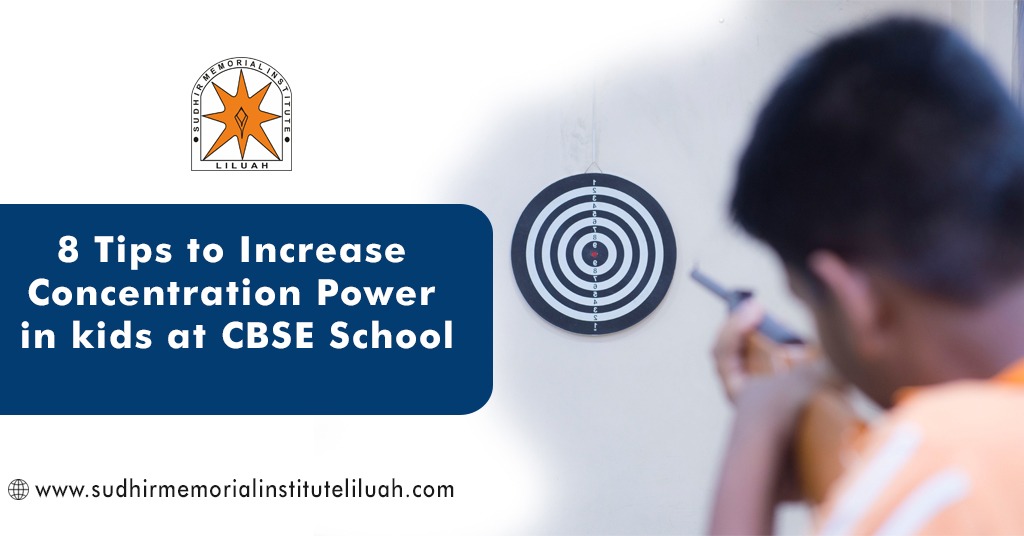 Reducing distractions: –
To increase concentration in a child, teachers of CBSE board school in Howrah make every attempt to reduce distractions of their child. They get easily distracted by things like seeing outside from the window, not paying attention to the class, etc. To reduce distraction, they can have a nutritious diet of vegetables and healthy food.
Breaking down the task: –
As a teacher of CBSE board school in Howrah, takes care of their student very efficiently. They break down the task down into smaller parts, and create achievable steps. This is the best process and will keep kids motivated.
Having a routine: –
It's the responsibility of parents as well as teachers of the school in Howrah to make a time table for each individual child. If they study all the subjects according to their scheduled time, then they will able to concentrate more on studies. They cannot spend their most of the time in thinking and playing games.
Eating enough fiber and whole grains: –
It is known that fiber and whole grains slow the digestion of sugar in little bodies as well as adult bodies. During a sugar crash, a child can become lazy and they can't concentrate well. So, it's recommended to eat fiber rich foods and whole grains to become more intelligent.
Need to enjoy physical activity: –
Doing physical activity on a regular basis also develops a child mind and body and increases concentration. Ask your child to go outside, play with their friends, running is too important, and if they are in school in Howrah, then there is an arrangement of ground plan where they can play their favioarte sports and games and can do exercise too. It is the best way to increase concentration and they can read more.
Kids can have fun: –
At CBSE board school in Howrah, it's not necessary to only study anytime. It's important to follow rules and regulations of school but also to make some fun. Let kids to act naturally as they are in CBSE English medium school in Howrah and being a teacher, you need to allow your kids to refocus on studies after recharging their brain.
Meditation and breathing: –
In CBSE board school in Howrah, some meditation techniques is designed especially for children. Meditation helps inner mind to rest so it's important. And breathing is also very important.
Getting a good night's sleep :-
A good night's sleep is very important for children. It allows children to refresh their minds and body after the whole day school and coaching hours. They can concentrate more on next day. Sleep allows the brain to unload toxins that build up while awake, and ready to focus on the day's activities.
Conclusion
Like any skill, concentration can be improved and made automatic. The trick is to be consistent. Above given tips will not only help you to concentrate on studies at school in Howrah but also focus more on studies. Enroll yourself at school in Howrah today.