Children and adults alike will be happier to learn when they are having fun that is why adjective games for kids are really effective way to teach adjectives in the classroom. Students of best CBSE School in Howrah can develop a strong vocabulary, when learning is a fun process, they can use their newly learned adjectives. Coming to this, we will have some valuable discussions on 9 Classroom Games for Teaching Kids about Adjectives.
It is known to all of us that traditional language teaching only focuses on repetition and rote learning, but nowadays children want to learn through experience and engagement. If you want to help your kids learn adjectives in a fun and interesting way, then this blog will certainly help you out.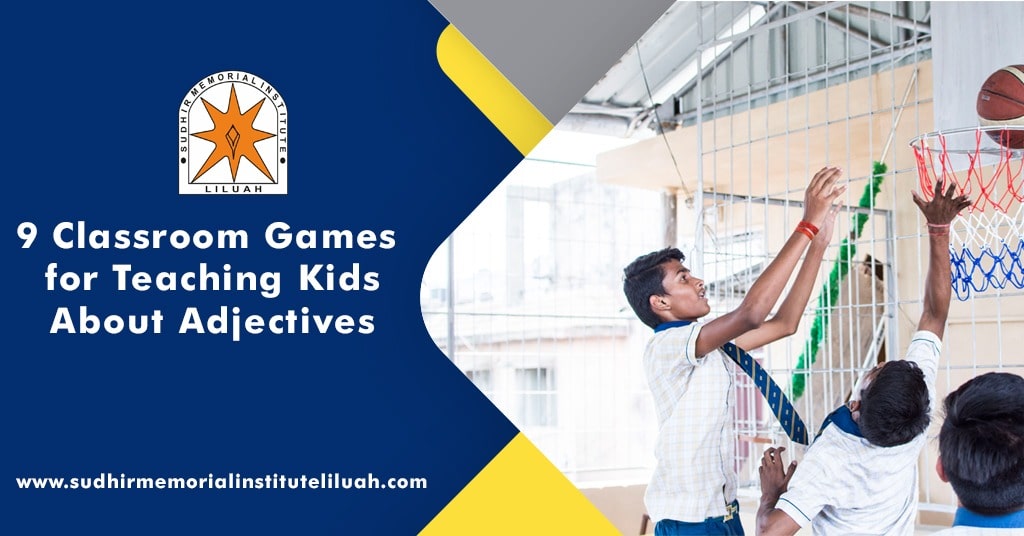 What is adjective?
Adjectives are words that describe people or things. For example, the word "blue" is an adjective, because it describes the color of something, as like the word "tall" is an adjective, because it represents the height of something.
Now let us know about 9 classroom games for teaching kids about adjectives in a best CBSE English medium school in Howrah. They are as follows:-
1.Introduce yourself :-
It's a very good name. Firstly teachers of best CBSE School in Howrah introduce themselves, and then students start to introduce themselves by describing their qualities about themselves. For example, I am cheerful, short and curious.
2.Adjective Match:-
It's a very interesting game in which teachers of best CBSE School in Howrah create a deck of cards with different adjectives written on each card. Images or pictures could also be used by the teachers. Each player needs to choose an image, deal four cards to each player, and if the player can describe the image with all four cards they win.
3.Improves handwriting :-
Adjective is a key component of good writing. When teachers of best CBSE school in Howrah allows child to add detail and colors to their writing, making it more interesting for the reader, the students really do and can learn many words which came under adjectives.
4. Noun showdown :-
It is also a fun game, in which the class is divided into two or more teams, and then the teachers of CBSE School in Howrah write nouns on the board or show it as an image. And then both the teams had to write down as many adjectives as they can. Teams get a point for every adjective that is appropriate. It's a very fun and fast game which students love the most.
5. Show and tell :-
In this particular game, the students bring all the objects from home and represent those before teachers of best CBSE School in Howrah. The teachers take notes of all the objectives, the student uses to describe the object. This can be displayed around the classroom later or the teacher can quiz the class on what adjectives were used after each presentation.
6. Describing the day :-
Students can describe their morning activity, what they had in lunch, tells about maths class. Teachers may take care of the students if they are using adjectives appropriately in their sentences.
7. Riddle game using adjective :-
This is a fun game that tests student's creativity and understanding using adjectives. Riddles using adjectives to describe people, animals, vehicles and other nouns. Let the class solve the riddle, teachers need to only watch them.
8. Circling the adjectives on favioarte stories :-
It is also a fun game that can be played during quiet time. Teachers can print out samples from students favioarte stories or write them on the board. Encourage students to read through the story, circling adjectives as they go. The best thing about this exercise is the versatility, easily slipping into any lesson plan.
9. Describing people :-
Student of CBSE affiliated school in Howrah are asked to describe the various people on the page of magazines. Try to vary the magazines and the subjects. You can also move away from people to things.
Conclusion
Hence, these are the top 9 classroom games for teaching kids about adjectives. By adopting all these, a child can easily learn about adjective in fun manner. Being the best CBSE School in Howrah, Sudhir memorial institute puts more focus on these activities to develop a child from the beginning.