Morning School is an integral part of the school's schedule. It gives special benefits to the students in the educational journey. It also helps in inculcating moral values in students. Morning school is important for a child's development. The best CBSE school howrah regularly conducts morning assembly for students to instil discipline in them. Some of the benefits of Morning School for students:
Develop a feeling of being united.
Understanding the school in a better way.
Learn valuable lessons.
Confidence building.
Rewarding achievers to encourage them to perform better.
Understanding the ups and downs of schools and solving out the problems.
Prepare for Different Competitive exams like Bank | SSC | Railway | IIT | NEET etc.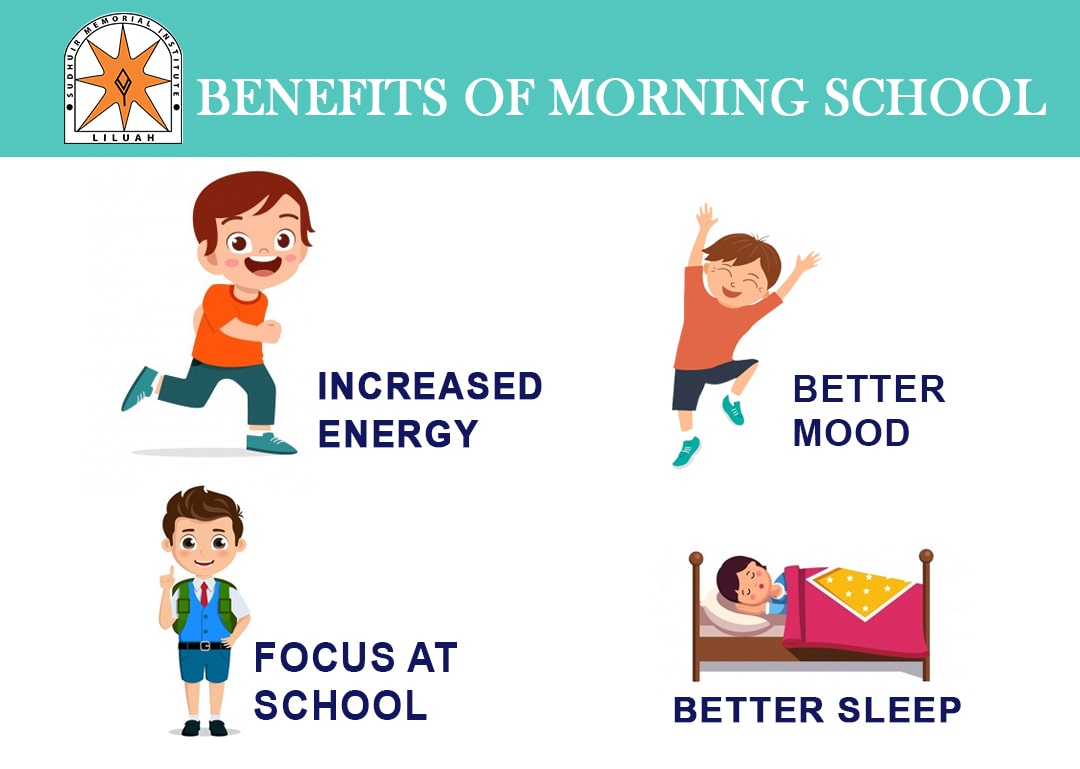 Planned Management & development
The best school in howrah has a well-planned morning assembly. It is accompanied by morning prayer, national anthem, speech, news, the thought of the day, acknowledgement of achievers and address by the school's management.
Morning schools inspire our students with the life teachings method. It facilitates mental and spiritual development. We believe in the value of education that gives an integral value to our curriculum activities.
Basically, Morning school has various planned management ship and development process for students. This makes us one of the best morning schools in Howrah. Thus, if you want to develop your child holistically, then send him to english medium school in howrah.
Be disciplined and learn a valuable lesson
Our children are future of the Nation thus the morning school provides some important things in school, Perform Yoga and Exercise, maintains the best routine, gives valuable lessons, etc. It is the first step towards a good future in the school. According to the scientist, philosopher and doctors Wake up early in the morning is good for your health and for your mind.
Do you ever realize why the school going child is healthier, happy and their capacity to capture things is greater than those who do not wake up earlier?  Because they wake up early in the morning for their school. You can see several well-known personalities that are famous for their creativity and work are wake-up early in the morning. Almost 3rd generation ago the people were healthier, intelligent and strong because of the regularity of their good habits.
Importance of Morning School
The Importance of morning school is important in several aspects. It makes the student feel fresh, energetic with positive vibes in the mind and body. School life is the initial stage of every child. Thus, morning school must be good for all children, because it teaches several important lessons and it also good for health and mind. Morning school impacts the best sunlight effects and they will get proper morning sunlight energy which is important for everyone but after 11 am in this era this sunlight may be harmful to children.
Government and competitive exams preparations
Nowadays students getting prepare for government competitive exams starting from class 10th, Unlike traditional method students starting for their exams 2-3 years ago. Such a practice makes them so perfect and confident in a span of 3 years that gives the best result so far. These students prefer Morning School because it gives you plenty of timing for preparation after school. Such Competitive exams are Bank|SSC|Railway|IIT-JEE|NEET etc. The CBSE school in howrah district provide the best guidance for competitive exams in the related stream like Science/Arts/Commerce.
Thus we realize the benefits of Morning school and it impacts a student's life. Morning school in howrah makes us feel fresh in the morning. The prayer of morning school is the pillar of freshness. It gives us all the time freshness during the morning. Therefore, It is good if they are starting the day with prayers.