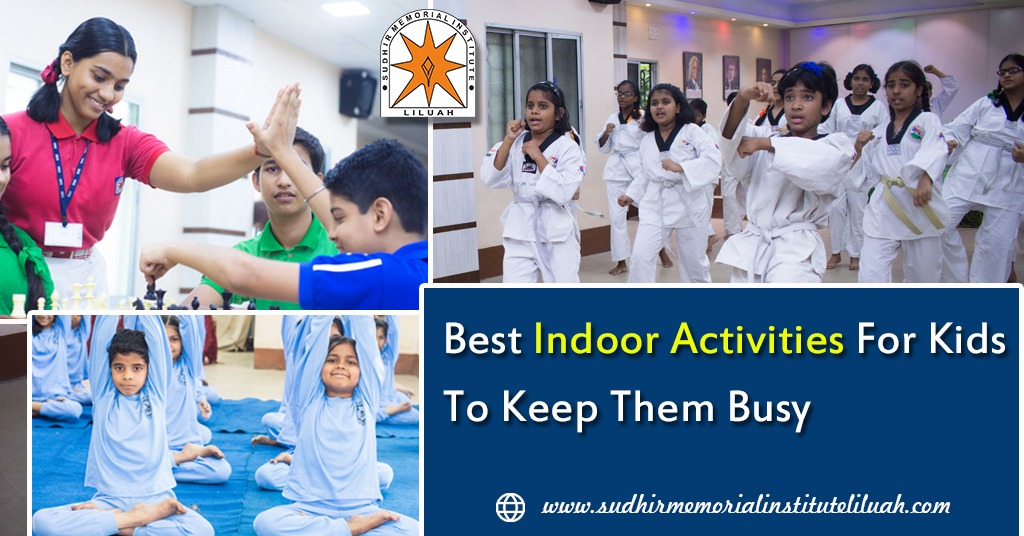 Looking for some fun and stimulating indoor activities for your kids in school and in the home too? Indoor activities with kids can be a challenge when it's too hot or cold or rainy to go outside. Kids can become bored when copped up inside either at school or at home.
There are so many cbse affiliated schools in Howrah where kids can enjoy playing indoor games and doing indoor activities too.
It's a big question what should be the indoor activities for kids in school? In-home a child had several activities to do, but what about the school?
Before discussing indoor activities, let's know about one of the top cbse schools in Howrah. The Sudhir Memorial Institute Liluah or the SMIL. It is located in Liluah Howrah and is known for its Excellency in educational services. Some of the facilities provided at the cbse school in the Howrah district are as follows:-
Ground Plan
Library room
Computer room
Audio visual room
Smart digitalized classrooms
Science lab
Transportation facility
Now we will discuss some of the indoor activities for kids to keep them busy in Cbse School in the Howrah district.
Playing board games
Dance party
Random painting
Play with toilet paper rolls
Make paper airplanes
Playing board games
Board games are a great way to keep kids entertained. Through this, they can learn how to take turns, how to lose gracefully and how to strategize. There are many different board games that a child can play in cbse affiliated schools in Howrah or in homes.
Dance party
Dancing is a great way to get kids moving and it's also a lot of fun. Turn on some music and let your kids dance their hearts out. You can even get creative and do themed dances. Maybe have a princess dance party or a Superhero dance party. To improve your child's fine motor skills dancing helps with balance, coordination, and spatial awareness. If your students love to do freeze dance or twirl then let them do it because that helps in muscle development.
Random painting
Let your students paint, it is the best indoor activity to keep them busy during their school hours. If they are free enough and they feel bored while studying they can do the random painting. These creative ideas for the school child age will help to keep their minds active and busy.
Play with toilet paper rolls
The students of the cbse school in howrah district normally use to play with toilet paper rolls. It can be used for other activities like making binoculars or a camera. If you cut a small hole at each end of the tube, your student can look through them to see things far away.
Make paper airplanes
Wrapping paper or newspapers can also be used to make paper airplanes. This is a classic imaginative play activity that never gets old. Kids can experiment with different designs and see which airplane flies the farthest. You can also have a competition to see who can make the best airplane. Making airplane game ideas is a fun way to keep kids busy indoors. Moreover, on a rainy day, you can make a paper boat. Just fold a piece of paper in half, then in half again, and cut the corners off. Unfold the paper and you will have a boat shape. Tape or glue straw to the front of the boat for a mast, then use another straw as an oar.
Conclusion
Therefore, keeping kids entertained and busy, the top cbse school in howrah provides all these indoor activities for their students. So, wait for no more, visit the website and gain full information.
Author's Bio
Hello readers, I am Sushma Gupta, a professional content writer for Sudhir memorial institute. I enriched the maximum knowledge about this school. This is a very well-established CBSE school and I feel proud to be a part of this institute in the form of a writer.