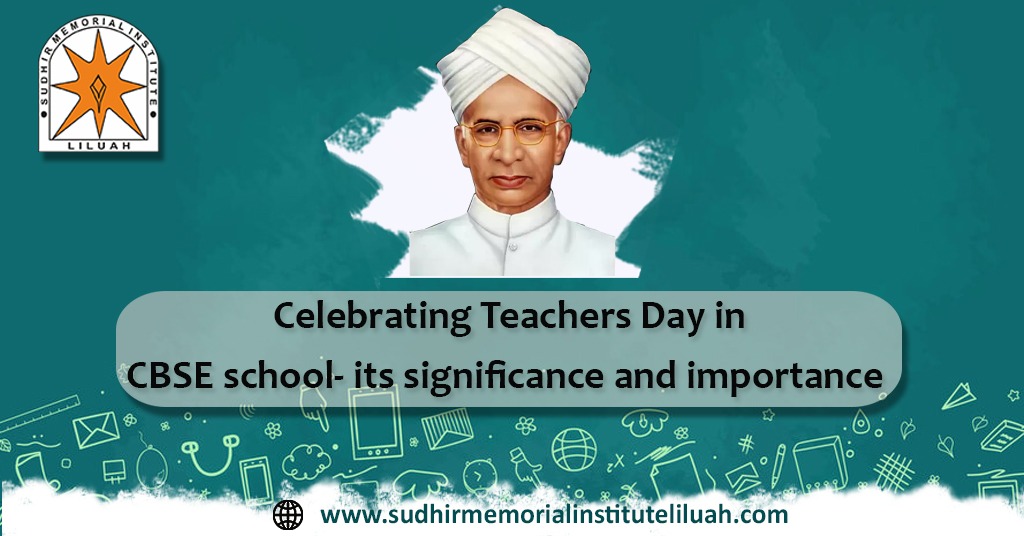 Teacher's day is celebrated on the 5th of September every year with full joy. On this auspicious day, the students praise their teachers for what they do for them in their whole life. The teacher is the second parent of each and every student. Likewise, this particular day is also celebrated in one of the best English medium schools in Howrah named Sudhir Memorial Institute.
As we all know, India celebrates teacher's day to mark the birth of the great philosopher, teacher, scholar, and second president Dr. Sarvapali Radhakrishnan. India is celebrating Teachers' Day since 5th September 1962 to honor Dr. Sarvepalli Radhakrishnan'ns remarkable approach towards education and students.
The CBSE-affiliated school in Howrah celebrates this day with students preparing tribute speeches, poems, etc. for their teachers. Now we will discuss the steps of how Teachers Day is celebrated in the best English medium school in Howrah.
Make a card
Shot out your teacher on social media
Create a word cloud as a thoughtful gift
Give their teacher a present
Be a great student
Make a card
A card is a personal way to show your appreciation. In this teacher's day card, the students write down all their feelings, how thankful they are and they appreciate everything their teacher does. Find some time during before or after class to give your teacher the card, or leave it on their desk so they can read it later. A pop-up card is a fun, creative way to show your appreciation. Get your fellow classmates to sign the card as an extra-special touch. If you don't have a lot of spare time to make your own card, you could send an e-card before class.
Shot out your teacher on social media
The children use to write a thoughtful post using the hashtag #Thank you, Teacher. Draft out a message on social media platforms like Facebook, Instagram, Twitter, etc. You could even attach a picture of your teacher as a special touch. Share the post with your friends, family, and followers, so everyone knows how much you appreciate your teacher. You might say, "I just wanted to thank Mos. Name of a teacher for being so kind, helpful, and understanding. She's one of the best science teachers ever! "You could also say, "Mr. (teacher's name) is such a great teacher. I always look forward to his class, and I love how passionate he is about history. Thank you for all you do, Mr. (teacher's name).
Create a world cloud as a thoughtful gift
A word cloud is a fun, creative twist on a usual greeting card. Instead of drafting a simple message, write out a long list of words that describe or remind you of your teacher. Then, copy and paste all of those words into a word cloud generator. You might include words like smart, helpful, inspiring, kind, and thoughtful. Customize your word cloud into fun, unique shapes, like a heart, star, talk bubble, or your teacher's favourite animal.
Give their teacher a present
The children on this very auspicious day give their class teachers valuable presents like bouquets of flowers or their favorite snacks. You could collect money from your fellow classmates and get your teacher a gift card to their favorite store or restaurant.
Be a great student
Good behavior is the best way to celebrate and appreciate your teacher. This is actually what students of the best English medium school in Howrah show towards their teachers.
Conclusion
Hope you like reading this blog. The teacher's day celebration had its own importance and significance. It teaches how to show respect towards teachers in the school. For CBSE school admission in Howrah visit the institution itself.