Finally, The 10th Board exam is over and the results are about to out soon. Well, this is high time to think about your right stream. Several students and their parents will be confused in different ways. There might be different questions that are coming into their mind. Such as which stream to take up? Should I go for Science, Arts, or Commerce? Hence, it is the prime responsibility of the students and parents to consult with their child or mentors for choosing the right stream for their child. Several best school in Howrah provide better shape and guidance to their child for the best future. Make sure to choose the right stream after class 10th because it would be going to shape the child's career in the future. Today, we will discuss choosing the right stream for child's career after class 10.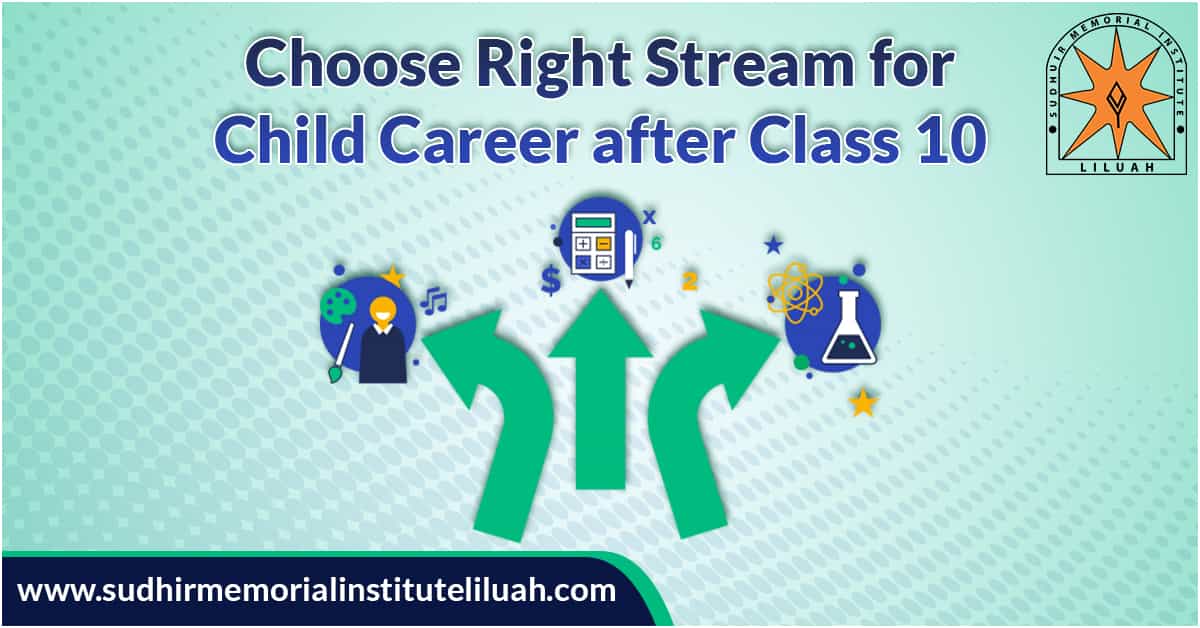 There is mainly three-stream in CBSE Board after Class 10th:
Science:
Science is one of the most demanding subjects for both Parents and Students. It is almost a desire of every parent to make their child engineer. However, most the child also prefer to continue with Science because of the knowledge and excellent career demand of in Science Stream. Science has mainly six subjects: Physics, Chemistry, Biology, Mathematics, Economics, and Computer Science.
Arts:
Arts is also one of the interesting streams to choose after class 10th. The demand of choosing arts as a career is also good. There are several interesting careers are waiting for the students in the Arts stream. Such as Mass Communication, Journalism, Investment Analyses, Health Psychology, Planning and Development, and many more. The Arts students have several subjects to study: Sociology, History, Literature, Psychology, Political Science, Philosophy, Economics.
Commerce:
Commerce is one of the most valuable subjects after Science. In fact, Several children moving their stream from Science to Commerce for building a better career in the future. Definitely, it is one of the demanding and powerful streams after Science. Therefore, several parents approach their child to choose Commerce as a Stream for a better career in the future. There are several career options such as Chartered Accountant, Bankers, Company Secretaries, Accountants, Investment Banking and Financial Advisors. The prime Subjects of Commerce are Business Studies, Accountancy, Economics, and Business Laws.
Stream Independent Career Option:
Several students follow the stream independent career option for a better career in the future. They don't follow either of Science, Commerce, and Arts. Therefore, there are several short terms courses with valid certificates in the independent stream. Such courses are Diploma, vocational courses.
Hence, there are several pros and cons of every stream after the 10th. It is the responsibility of the students and parents to make a proper analysis of such a stream. However, we need to look and judge on child interest and understand their ability t take after class 10th. Some of the basic things we need to understand before picking up the stream for the child:
Understand the Interest
Know the strength of your Child
Make consult with mentors
We need to keep in mind these three simple steps to enrich the success of our child's career. However, make a consult with their mentors and ask for better suggestions in the future. Mentors know the ability, strength, and weakness of the child because they spend lots of timing in the classroom. They can surely give the right direction for your child's career.
SMIL is one of the best CBSE school in Howrah brings excellent faculty members that provide complete guidance and also provide right counseling to the child for their better career.