Stress is a natural action that comes from the human mind due to the excess of tiredness of body and mind. We often see the stress in our child due to different causes. Some of them express and some of them do not express the stress. Therefore, it is the responsibility of parents to look after your child and talk to them on their daily activities. This will help them express their stress in every circumstance. There are several cbse affiliated schools in howrah that guided their students in the low-risk zone and keep students stress free. We will discuss the common causes of school stress for students generate in different ways.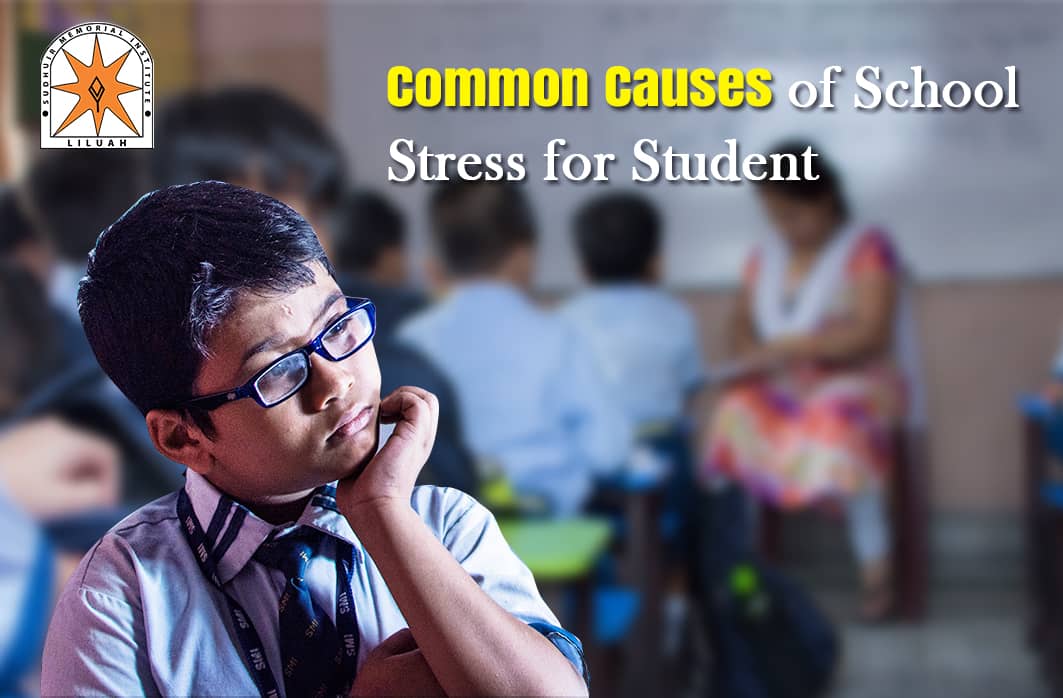 What are the types of stress?
There are four types of stress that come valiantly in the life of the students.
Personal Stress
Family Stress
Financial Stress
Future Stress
Academic Stress
Hence, these are the four prime types of stress that exist for the students. So we need to understand that these stress are common to come into the life of students. This stress will also make them stronger, better decision-makers, responsible, and mature in the future. It is also to accept that if your child needs your support in the middle of these stress then show them your strength, support towards your child.
Let's understand these types of stress in short details:
Personal Stress
There are several personal stress that comes out in the educational journey of the students. They may not be as independent as in their home. They need to get mix-up with all types of children, they may not eat for an unlimited time, they need to finish their homework on time and many more. There are several best cbse school howrah that has do not provide personal stress to the child but rather provide them free spaces in terms of several problems.
Family Stress
Students are facing huge family stress in order to maintain social forms. Everyone joining the race to become first and put their child into the race zone. We need to understand that every child does not have the same ability to compete with other children. everyone has something special and unique inside them. Have faith and stop giving stress to your child.
Financial Stress
Financial stress is the root cause of no development. Many brilliant student do not be able to continue their study due to financial reasons. This stress also keeps running inside the child's mind. Due to insufficient funds, A child does not be able to get the best school and best tutors. Hence, do not give any financial stress inside your child's mind. Being parents you must keep working hard and follow your child's dream.
Future stress
This is one of the biggest stress and dangerous stress. This stress also hampers the future. Therefore, do not go for future stress that could harm your destiny. Just create a normal goal and start working on a daily basis. Do not focus on the written goal but start showing actions.
Academic stress
Academic stress is very exhausting that could bring anxiety in your child. Attending classes, submitting projects, Note-making processes and many more are the reason for academic stress. Hence, provide the best school that could release the stress of your child. Choose to get top cbse school in howrah that has the best ability to provide the low academic stress to your child. Stress is good because it provides maturity, responsibility, and good decision-maker in the future but when it becomes excess it causes harm to their child.
Existence of student stress
Student's stress is very large and tricky. If we have to understand the existence of student stress then we have to understand their daily work starting from Morning to Night.
Nowadays education is vast and has competed in the In order to be the best, we let our child do every study and non-study activity starting from Monday-Sunday. This daily work start making their stress grow inside the mind.
Getting to the new classes, teachers, friends, school routines, and environment creates stress inside their body and mind. Their heart starts beating faster as they are closer to their destiny. We can easily recognize the nervousness of our children by their faces. Therefore, to make them calm and easy to provide them the best cbse school admission in howrah that has the best academic function, top faculties guide and support child, great positive environment, best nature for new students. These functions also make a relaxing position to the parents.
Hence, these are the common causes of school stress for students. Therefore, we provide the types and existence of stress generally come to the life of students. We also provide the best remedies and we also request the parents and students to follow the article to avoid the stress from your life.