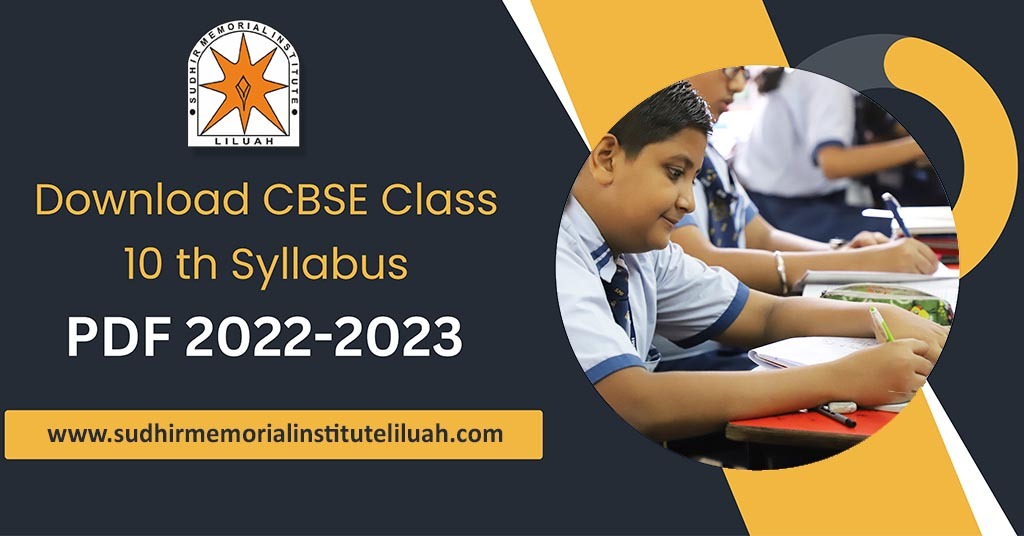 CBSE or Central Board of Secondary Education has released the latest pattern of class 10th syllabus 2023 for all the subjects. The CBSE class 10th syllabus in PDF format is available for all the language subjects, main subjects and the elective subjects.
The CBSE 10th exams will be conducted in the month of March-April 2023. It's very important for the students to know about the syllabus which comprises topics and sub topics.
How to download CBSE Class 10 syllabus 2022-23 PDF?
The CBSE board has provided Class 10th syllabus 2022-23 on its official websites as PDF files. By following some of the steps given below, students can download the CBSE class 10 syllabus 2022-23.
Go to the official website of cbseacademic
From the menu bar click on the curriculum link and open the link for revised CBSE 10th syllabus 2022-23
Open the tab class 10 and choose the type of subject
Then, click on the subject name to download the class 10 syllabus 2022-23 of that subject. Thus, students can access the CBSE class 10 syllabus 2022-23 pdf for all subjects.
Open the downloaded file and take a printout of the latest syllabus of class 10 CBSE 2022-23 to use it later.
CBSE class 10 syllabus English
Refer to the below table for the CBSE class 10 syllabus 2023 of English.
Prescribed Books:
First Flight
Prose
A letter to God
Nelson Mandela – Long Walk to Freedom
Two Stories About Flying
From the Diary of Anne Frank
Glimpses of India
Mijbil the Otter
Madam Rides the Bus
The Sermon at Benares
The Proposal (Play)
Poems
Dust of Snow
Fire and Ice
A tiger in the Zoo
How to Tell Wild Animals
The Ball Poem
Amanda!
The Trees
Fog
The Tale of Custard the Dragon
For Anne Gregory
FOOTPRINTS WITHOUT FEET
A triumph of Surgery
The Thief's Story
The Midnight Visitor
A Question of Trust
Footprints Without Feet
The making of a Scientist
The necklace
Bholi
The Book That Saved the Earth
WORDS AND EXPRESSIONS – II (WORKBOOK FOR CLASS X) – Units 1 to 4 and Units 7 to 11
CBSE class 10 syllabus Mathematics
| | | |
| --- | --- | --- |
| Units | Unit Name | Marks |
| 1 | Number Systems | 06 |
| 2 | Algebra | 20 |
| 3 | Coordinate Geometry | 06 |
| 4 | Geometry | 15 |
| 5 | Mensuration | 10 |
| 6 | Statistics and Probability | 11 |
| 7 | Trigonometry | 12 |
| | Total | 80 |
CBSE Class 10 syllabus Science
| | | |
| --- | --- | --- |
| Unit No. | Name | Marks |
| 1 | Chemical Substances-Nature and Behaviour: Chemical reactions and equations, Acids, Bases and Salts, Acids, Bases and Salts, Carbon compounds | 25 |
| 2 | World of Living: Life processes, Control and co-ordination in animals and plants, Reproduction, Heredity and Evolution | 25 |
| 3 | Natural Phenomena: Reflection of light by curved surfaces, Refraction of light by spherical lens, Functioning of a lens in human eye, Refraction of light through a prism, etc. | 12 |
| 4 | Effects of Current: Electric current, potential difference and electric current, Ohm's law, Magnetic effects of current, | 13 |
| 5 | Natural Resources: Our environment | 05 |
| | Total | 80 |
CBSE class 10 syllabus Social Science
Unit No.
Name
Marks
1
India and the Contemporary World – II
Section 1: Events and Processes The Rise of Nationalism in Europe Nationalism in India Section 2: Livelihoods, Economies and Societies The Making of a Global World .The Age of Industrialization Section 3: Everyday Life, Culture and Politics Print Culture and the Modern World
20
2
Contemporary India – II: Resources and Development, Forest and Wildlife, Water Resources, Agriculture, Minerals and Energy Resources, Manufacturing Industries, Life Lines of National Economy
20
3
Democratic Politics – II:
Power Sharing, Federalism, Gender, Religion and Caste, Political Parties, Outcomes of Democracy
20
4
Understanding Economic Development: Development, Sectors of the Indian Economy, Money and Credit, Globalization and the Indian Economy, Consumer Rights(To be used only for Project Work )
20
Total
80