The Central Board of Secondary Education (CBSE) is expected to announce the date sheet for the 2021 X board examination. The board exam is one of the most vital exams that decide the future of the students. The result of the board exam will also decide the stream of the student in the future. This is Science/Commerce/Arts. CBSE is one of the easiest board to crack and score high in the exam. However, you need to provide little focus and effort for your exam. Hence, with a few months left, it is good to prepare decent to get good marks for your exam. In this blog, we will discuss how to get prepare for the CBSE board 10th Exam.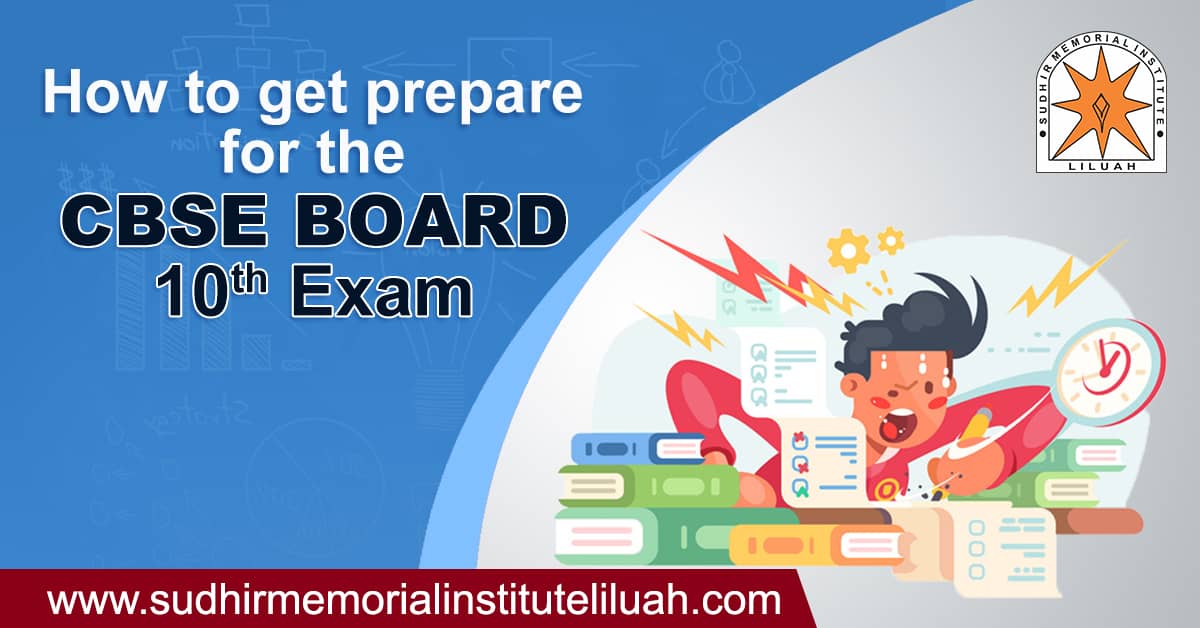 As we understand the importance of board exam. Therefore, we need to execute it with proper planning, schedule, and strategies that secure to score high marks in the CBSE board 10th exam. The Howrah best CBSE school is one that brings the best method of preparation.
The CBSE 10th standard released the exam pattern, details like marking scheme, the difficulty level of the questions, number and types of questions, marks and more. The paper pattern and marking schemes differ with each subject as some subjects have an only theory and other subjects have both practical and theory.
The CBSE X exam pattern is based on 80:20 pattern, of this 80 marks will be for written exam and 20 marks will be for internal assessment—periodic tests, notebook submission, subject enhancement activities.
All the questions will be from CBSE books and not from NCERT books.
To pass the exam, the student must score a minimum of 33% marks in both theory and practical.
Here are some of the examination tips that you can follow from the best school in Howrah:
Make a TimeTable
Time Table is one of the most crucial things that give shape to your preparation. Always try to set proper rules and regulations with your schedule because it is good to be within the limit of everything. It is the symbol of good guidance and excellent preparation. The proper limitation will restrict your child from distraction. It is a complete responsibility of the parents to provide certain guidance and approach them to follow the timetable.
Solve Sample Papers
The daily practice of sample paper will increase the confidence level and also increase the speed of attending a maximum number of questions. The best educational institute will provide you with daily practice papers, study material, and some of the best tricks to crack the government exam. Therefore, practice at least 2 sample question papers on a daily basis to score good marks in the X exam. Get the best Sample paper from the CBSE board school in Howrah with proper research of the question series.
Practice Previous Year Question Paper
Practicing of the previous year's question will also improve the speed of the exam, improve the confidence level, and most importantly it gives an idea about the exam and question pattern.
Take Proper Rest
Take rest for at least 20 minutes on each hour of interval. Get proper sleep, play sports, go to movies or parks to de-stress.
Study in a Group
Studying in a group has several benefits. It is always fun to study with a group of friends. It also helps you to learn better with a different group of students. The group study will also help you to understand the concept and help in clearing doubts.
Make Notes
Proper notes will help in giving a quick review to the students during the exams. The creation of your own notes will help you to understand better and save time and efforts.
Stay Positive
We all are aware of the importance of the CBSE board exam. However, we know we can crack and score high in the exam. Still, we are facing some problems and tension that impact our exam. Therefore, try to stay calm and relax. Be positive with your preparation for the board exam.
Let's now look at the subject-wise marks breakdown
For Language 1, Language 2, Science, Mathematics, and Social Science, the paper will be for 80 marks in each subject and will include 100% of the class X syllabus. For each individual subject, both marks and grades will be awarded. CBSE will follow 8 point grading system.
According to the new rule by CBSE, schools will have to conduct an internal assessment of 20 marks to assess the student's creativity, punctuality, reading skills, writing skills, and subject knowledge. This also includes a periodic test of 10 marks, notebook submission of 5 marks and subject enrichment activities of 5 marks.
For Language 1, Language 2, Science, Mathematics, and Social Science, each paper will have 20 marks from the internal assessment. This includes:
10 marks from periodic tests: for the final submission, the best of two from the three periodic tests will be considered.  Periodic tests are not only meant to check the student's preparedness but also to find out if any remedial measures are needed to help the help. These tests are pen and paper-based.
5 marks from notebook submission: this includes regularity of notebook submission, timely assignment completion, organizational skills, and neatness of the notebook.
5 marks from subject enrichment activities: this includes speaking skills, listening skills, practical lab work, math lab work, map work, and project work. There are also separate activities such as narrations, conversations, and dialogues, that are considered for marks.
There's also a 6th additional subject and marking scheme followed either languages 1 &2 or subjects will be followed.
Grading System
CBSE assesses students on an 8-point grading system. The grading system has been recreated below:
| | |
| --- | --- |
| Marks Range | Grades |
| 91-100 | A1 |
| 81-90   | A2 |
| 71-80   | B1 |
| 61-70   | B2 |
| 51-60   | C1 |
| 41-50 | C2 |
| 33-40 | D |
| 32 and Below | E (Fail) |
Grades will be given after considering the marks range obtained and considering both formative and summative assessments, grades will be given.
The upcoming CBSE board X exam 2020 will consist of Very Short Answer (VSA) type questions, Short Answer(SA) type questions, and Long Answer (LA) type questions.  along with the making scheme.