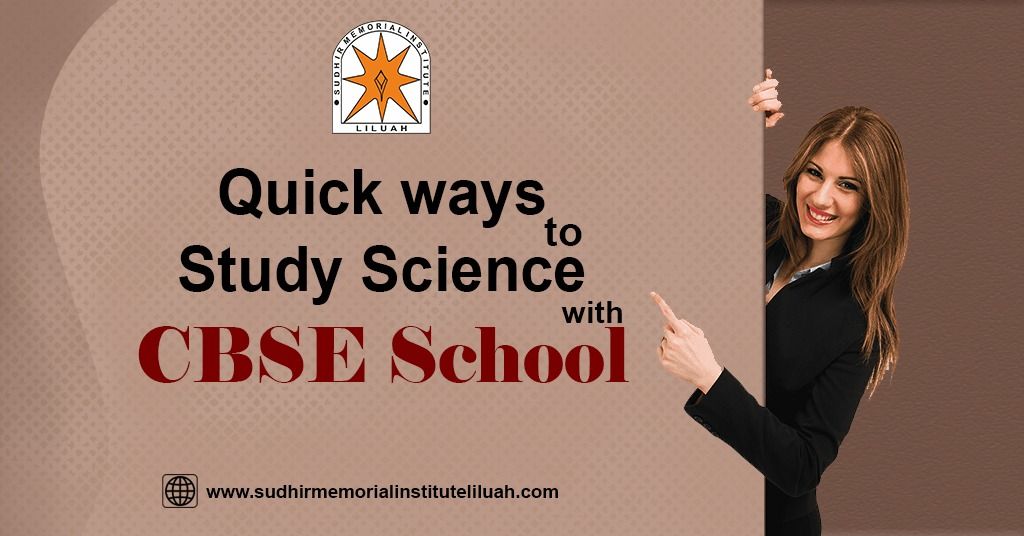 Science is the pursuit and application of knowledge and understanding of the natural and social world following a systematic methodology based on evidence. The word "Science" probably brings to mind many different pictures – an astronomer peering through a telescope, a naturalist in the rainforest, the launch of the space shuttle, etc.
In school, science seems like a static fact listed in a textbook. Science is a way of discovering what the universe is and how those things worked today, how they work in the past and how they are likely to work in the future. Scientists are motivated by figuring out something that no one has before. Would you like to be a scientist or an astronaut or doctor or any such profession in your future life? If so, then you have to study science more deeply.
In this mentioned blog, you will get to know about the best CBSE School in Howrah for science faculty, where it is, and what facilities it provides.
Sudhir Memorial Institute in Howrah is the best English medium school in Howrah which is a famous and highly established school not for science stream but also for humanities and commerce. The teachers are extremely talented and behave with their students in a very friendly manner. Rather than books, the knowledge given to them is through a science lab where students can do experiments with the chemicals.
Basically, it is seen that kids from an early age start experimenting with wires and try to give light to a bulb with their creativity. From that day onwards their parents saw characteristics of a scientist or an engineer in them. They had already prepared themselves to study science for future life.
Now a question arises in one's mind, what are the career options after choosing the science stream? Choosing a career stream is one of the most paths breaking moments of an individual's life. The study of the three streams of science namely; Physics, Chemistry, and Biology opens up a new world of opportunities ranging from the study of space and nuclear particles to the study of sand and soil. Gone are the days when becoming an engineer or a doctor was only the career option for science students to pursue.
Science students can pursue Artificial Intelligence and Machine Learning as a career. A degree in computer science with additional courses in AI and ML can suffice. Or you can study data science which is simply is the study of different kinds of data by the applications of scientific methods, processes, and algorithms. In today's world, data is known as the most important thing in an organization. Students must have knowledge of computer science, maths, and analytics. And teachers of the best CBSE English medium school in Howrah specialize in providing them with knowledge of all subjects.
If you are a science student and if your interests lie in making innovative programs, software, and applications that make life and process easier for people, then you may choose a software designing course. It's a highly creative field, where you can let your imagination flow freely to create useful software for individuals and companies.
Not only these but there are also several other career options in which you might feel interested in the future. As it is previously mentioned, Sudhir Memorial Institute is among the best CBSE schools in Howrah for science faculty. CBSE School in Howrah laboratory section provides some safety information about the school lab.
The primary focus on laboratory infrastructure for each student should be its main focus. The teachers may explain all about the experiments to each individual specifically. Best CBSE English medium school in Howrah provides important protection measures, and safety glasses specifically when dealing with chemistry and biology laboratory. The best CBSE English medium school in Howrah gives a safety glasses policy in order to avoid accidents.
Children may not need to worry about the experiments because experiments should be performed under the guidance of a trained Lab Assistant/teacher to ensure the lab safety regulations. Touching chemicals with the self hands is prohibited.
Below given are some quick ways to study science with the best CBSE English medium school in Howrah.
Read the assigned materials before class
Take notes in the class
Re-read the assigned material after class
Be safe before preparing for lab
Conduct your experiment
Read the assigned materials before class
Before every science class, you need to read assigned study materials, and your teachers will tell you which chapters you need to read in advance before science class. Knowing what to expect during the lecture will absorb the lecture material more effectively. You may need to highlight the important points and concepts in your textbook.
Take notes in the class
Some science teachers simply go through the textbook in the class, others expand on what the textbook says. Being a student, it's your responsibility to listen to your teacher very carefully and try to take notes. This will further help you in the future and for better understanding. The teachers also provide students with copies of their presentation slides.
Re-read the assigned materials after class
If you are a sincere student and want to achieve something in the future you need to study science very seriously. Try to re-read your notes, and make corrections or updates if any are required to your notes. You may also create flashcards from key terms and concepts.
Be safe for preparing for lab
Studying science in the lab facility is very appreciated and easy to understand. Best CBSE English medium school in Howrah provides the best safety rules and procedures. Students need to follow the instructions of the experiment properly. Dispose of the materials using the power methods.
Conduct your experiment
You being the student of the best CBSE English medium school in Howrah, follow the proper procedure for each experiment. Be able to identify the variables being used in the experiment and how each one is controlled.
For CBSE class tenth science students, some of the study tips are mentioned below. You may follow these tips to get good marks in the examination.
Get familiar with the syllabus
Follow right books
Make a study schedule
Solve previous year's papers
Study actively
Make short notes
Revision
Stay healthy and away from social media
Conclusion
So, wait for no more, opt for none other than the best CBSE schools in Howrah for science faculty. Admissions are open for the sessions 2022-2023. For admission in CBSE School in Howrah, you may either visit its webpage or you are welcome to the school premises. Visit today.