"A Robot is a masterpiece of technology and art of innovation". Robotics courses are the course which changes the world by polishing students with a skill set that will help them in longer run. The robotics course for kids has been designed to allow our young geniuses to extensively explore the world of technology and robotics. Robotics is a fun and effective way to introduce kids to not only programming but also to engage their interests in other subjects in creative manner. It makes kids learn science and mathematics. In this blog, you will know about one such CBSE affiliated school in Howrah, which provides robotics courses for kids from their young age. And name of best CBSE School in Howrah is Sudhir memorial institute – under the SNR group of school.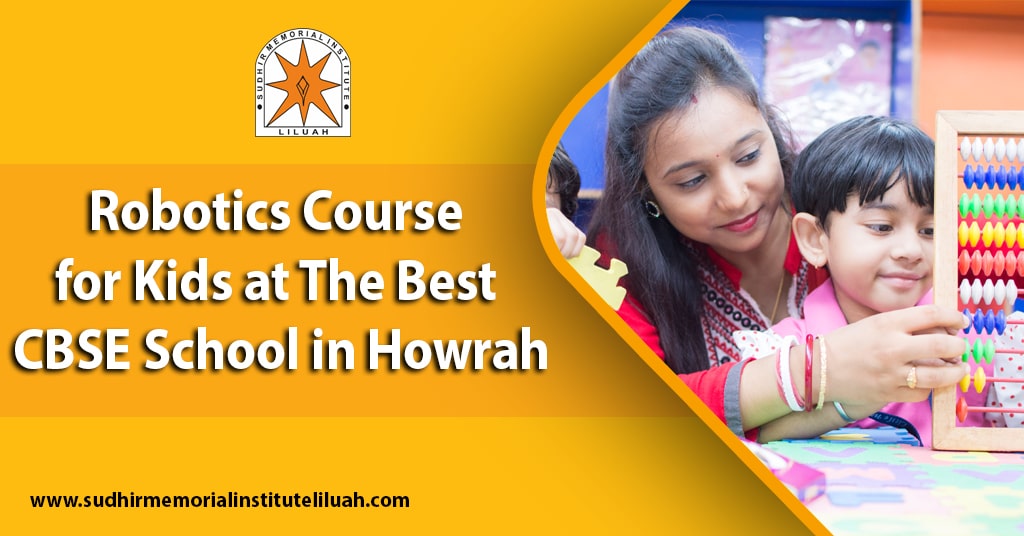 What makes best CBSE school in Howrah unique?
For the better understanding of fundamental concepts, you will get 100% CBSE supplement textbooks and interactive studies. There are lots of experienced teachers in this field, who will develop you and will help you in understanding this concept.
What can CBSE affiliated schools in Howrah help you achieve?
With Sudhir memorial institute, CBSE affiliated schools in Howrah; students can develop their skills in popular AI or artificial intelligence technologies and problem solving methodologies. It develops mini projects that will showcase the new skill acquired. With best English medium school in Howrah, you will learn to use popular AI powered tools like Coding and Html. At best CBSE school in Howrah, you will get experiences for exploring future career opportunities.
What is Coding and HTML?
The hyper text mark-up language or Html is the standard mark-up language for documents designed to be displayed in a web browser. It can be assisted by technologies like cascading style, sheets and scripting languages such as JavaScript.
Teaching children how to code, means teaching them a programming language that runs computer programs, apps, devices and games. Coding is shorthand for computer programming. Coding was not introduced in schools at early times, but these days students from their early age can learn how to code. It is learning a way of thinking that promotes analyzing problem solving and creativity.
With the best CBSE Affiliated School in Howrah, you can now be benefited with coding and html course. There are reputed teachers engaged in this field since many years. Coding and data science curriculum are focused on critical thinking, computational skills, problem solving skills, creativity and hand on exposures to new technologies.
Robotics skills are the currency of the future. Including these skills in CBSE School Howrah curriculum will play a strong role in preparing India's future workforce for the new world of work. CBSE School in Howrah is deeply committed to empowering the students of today to create the world of tomorrow.
Now you will get to know why best English medium school in Howrah is famous for. What services and facilities does it provide to its students?
Digital equipped smart classroom
Library room, computer labs and science labs available
Ground plan available
CBSE oriented syllabus
Reputed and skilled teachers
Conclusion
Thus, it is clear from the above that at CBSE School in Howrah, you will be benefited with the robotics course easily available to you from your young age. Here children's will get a good environment and they will easily learn the basics of coding and html.  To know more about its services and other benefits you may visit the website or contact us page. Admissions are going on for the session 2022-2023. Visit now.