Young children are natural scientists, they ask questions, pickup sticks and bugs outside, and are curious about the world around them. But as they a grow older, the number of kids interested in science decreases. They might see it just another task at school, something that does not apply to their lives.
Parents who have been looking for ways to get your kids interested in science now have the golden opportunity to admit their child to the best CBSE Schools in Howrah for science faculty.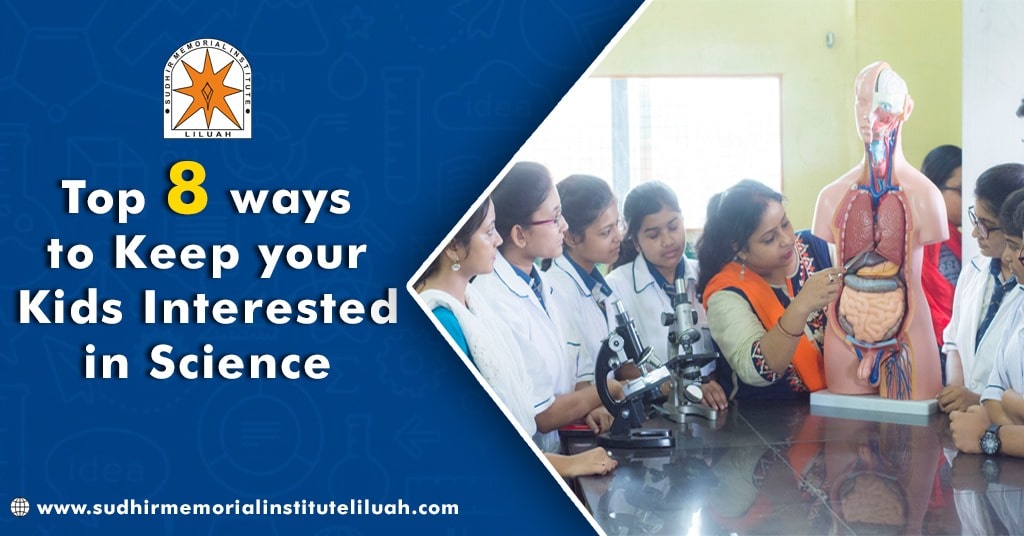 Yes, Sudhir Memorial Institute in Howrah is the best CBSE English medium school in Howrah which is highly famous for educating their child in the science subject.
Here are 8 ways to make kids interested in science and technology that can help you teaching them in the best CBSE English medium school in Howrah.
Incorporate learning through daily activities :-
Create activities that children can apply at home or even at school. Like in home, turn your kitchen into a laboratory. The kitchen is the perfect place to have cool experiments. As a parent, try to involve them in daily activities. And at CBSE School, teachers also try to engage them in science labs and show some experiments and tell them to try at least for once.
Do some activities by hand:-
Teachers of best CBSE English medium school in Howrah encourage their students to do some activities by their hand. It will help them to learn more.
Visit science museum :-
To have some interest in science, kids must visit science museum either with their parents or with their teachers. Visiting the museum will lead you to gain more knowledge about science.
Do some science experiments together:
It's the responsibility of teachers of best CBSE English medium school in Howrah to do some experiments with their students together. It will help them to learn more and probably they will get interest in science. There are lots of experiments you can do at home and at school also.
Enjoy watching science documentaries with them:-
There are many documentaries that kids will love to watch. They can watch anywhere either in the school audio visual room or at their home. There is an arrangement of audio visual room in the best CBSE English medium school in Howrah. Teachers may also watch those documentaries and if the students fail to understand they are there to explain them with all their efforts.
Encourage them to ask questions
If a child asks any questions related to science, then being the recognized teacher, had the ability to answer all their answers at the level best. The communication between teachers and students must be very clear and to the point so that they can understand well.
Get a science kit:-
Not only has its duty of teachers but of parents too – got a science kit for them. These kits tend to be relatively inexpensive and typically include all of the materials required to perform each experiment. There is a science kit for every discipline such as astronomy, physics, optics, chemistry, biology, and geology.
Buy puzzles and construction toys for kids :-
As children get older, you can introduce them to more advanced construction toys. Puzzles are another great way to encourage children to solve problems and to be creative.
Conclusion
These are just some ways to help your kids be interested in learning science. Your role as parents to guide them towards teach science subject that can be beneficial to them in the future. Choose the Sudhir memorial institute as the best school in Howrah for science faculty. Admission in CBSE School in Howrah is in process. Enroll your child's name and give them the best education they deserve.