Skipping school may sound very interesting to kids during school-age because it gives them enjoyment and fun. On a serious note, skipping school or classes may be one of the biggest disadvantages and losses to kids. It makes your child behind the schoolwork and lazy for its work. Sometimes parents do not take these things seriously and it could put negative results on their children. Skipping schools just to hang out with friends, play, watching favorite TV shows sounds so illegal. Therefore, we need to pick a school that follows the best disciplinary culture and is strict about its attendance. Hence, get admission in cbse school in Howrah that provides an excellent guideline on skipping school. In this blog, we will discuss the best 5 tips to stop your child from skipping school.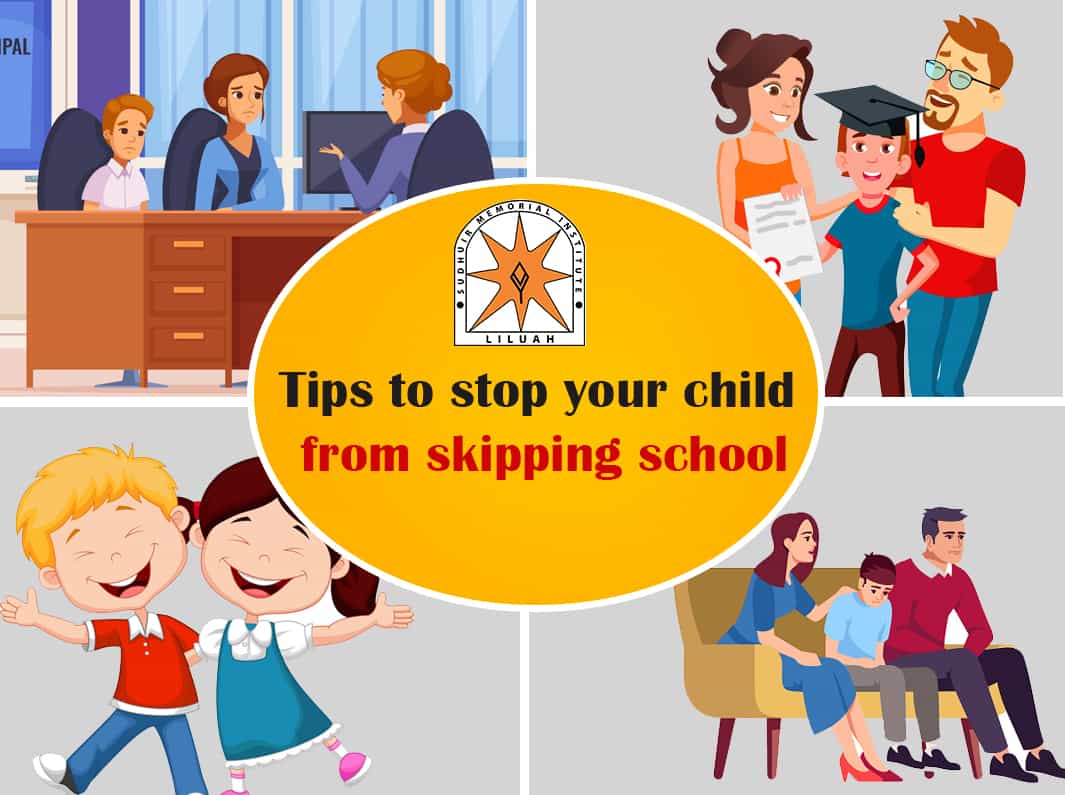 Discuss school rules with your child
It is very important for the parents to discuss certain school rules with the child. The school rule will prohibit your child from skipping school. Skipping schools might give certain listed punishments based on class performance, not doing homework, being absent for no reason, and many more. Some of the cbse school in the Howrah district is very strict and maintain 75% attendance mandatory for the best growth. Hence, if we provide such a school to our children then we can a bright future for our children with its best knowledge.
Try to know the problems of skipping
Sometimes, we can see that our child is aware of the illegal act of skipping school. They simply don't want to attend school. Hence, it is the responsibility of the parents to communicate with their child and also with teachers about such acts. Try to understand problems like bullying, social rejection, and many more. Therefore, in such cases try to take help from school counselors, teachers, and other academic help. If we can be able to understand the area of the problem then we can easily concern with our child.
Stay Connected to School and Colleges
Proper connection and communication with school admin and faculties are very important. The prime reason to get connected with schools and colleges is to judge the performance and development of the students. Every top cbse school in Howrah provides special guidelines to reach their administrators to know the status of their parent's child especially.
Stop negativity surrounding the school
School is one of the most trusted and secure places that provide knowledge, skill, and growth to your child. Hence, it shouldn't be a place full of negativity all around. The negativity will not influence the student to grow faster. Therefore, provide good education, extra curriculum activities, and many more to develop the skills of your child.
Make your child happier
Making happy and providing a smile on the face of the child must be the ultimate choice for parents. Similarly, to avoid skipping school a parent must motivate their child to join the school and teach the importance of school. The smile will cheer your child and that also brings positivity to attending school.
Hence, these are important 5 tips to stop your child from skipping school. It is also important to understand that the proper school with proper culture and discipline will make your child a responsible and bright student. Therefore, provide the best school in Howrah that gives excellent guidelines to enrich your child's success and avoid skipping techniques during school-age.