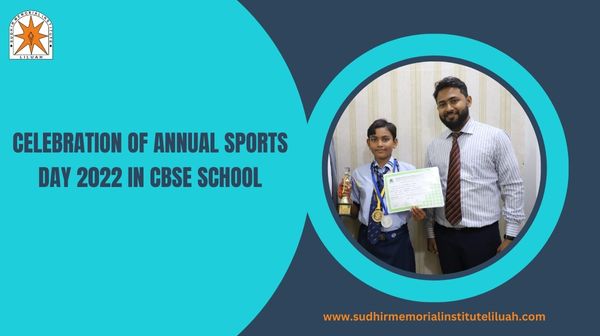 Sports day is an occasion where pupils, teachers and parents come together for a day of competitive sport. There are numerous of sports organized by the top school in howrah on the occasion of sports day.
Sudhir Memorial Institute Liluah which comes under the top 10 school in howrah had organized the annual sports day 2022 few days ago. Lots of students had taken part in the sports day activities.
The importance of sports day in school
The real importance of sports day in school is what it does for the spirits and camaraderie of the school community. Team sports are known to encourage a healthy level of competition and also bonding in teams as they work together to achieve a goal. It is a great time for students to practice supporting each other through both successes and failure.
What's more, it can be an opportunity for students who are less academically able, but who are skilled in sports, to really celebrate their achievements, and receive some recognition from their classmates.
The importance of sports day in school cannot really be overstated since it is a moment in the calendar to foreground extra-curricular activities and to demonstrate that school is about more than just academic achievement. It is also about being part of a supportive and productive community.
Physical exercise is something that teachers should ensure they encourage. Indeed, they should teach students to take up healthy habits that will last them through their lives. And holding a school sports day can be a brilliant way to do that, particularly if the teachers themselves get involved in the races and competitions too.
What events should a sports day include?
The trained sports teachers of the top school in Howrah mention the names of some popular sports day activities
Sprint race
Relay race
Shot put
Long jump
Tug of war
Egg and spoon race
Teachers or parents race
The benefits of sports day
Health
Team building and leadership skills
Improved social skills
Developed discipline
Team work
Health
Sports day will encourage young people to stay healthy and fit. Sports help to improve both mental and physical health of an individual. Moving around can help reduce blood sugar levels and strengthening lungs.
Team building and leadership skills
Sports activities help to team building and build leadership skills among students. Leading a team will help young people with their decision making skills and give them experience of supporting others. The students will learn that leadership is not just about telling people what to do, it is also showing about appreciation to them.
Improved social skills
Taking part in sporting activities can improve young people's social skills as it gives them the opportunity to meet new people and build resilience.
Developed discipline
To do well in sports, students will need to attend regular practice sessions. Students also have to make sure they follow the rules of the game and respect the decisions of the referee. These are skills which are transferable to other areas of life.
Team work
Team work is very much important for any sports. The teachers of the top school in Howrah try to develop a team and work accordingly to that team. To do well in team sports, students will need to make sure they put into practice some team work skills including cooperation and coordination.
Conclusion
The main idea of the annual sports day celebration in top school in Howrah is to encourage children to have fun. Thus, the students of the Sudhir Memorial Institute Liluah enjoyed a lot in annual sports day of 2022. Enroll your child for the kg admission in Howrah today with a minimum fee structure.