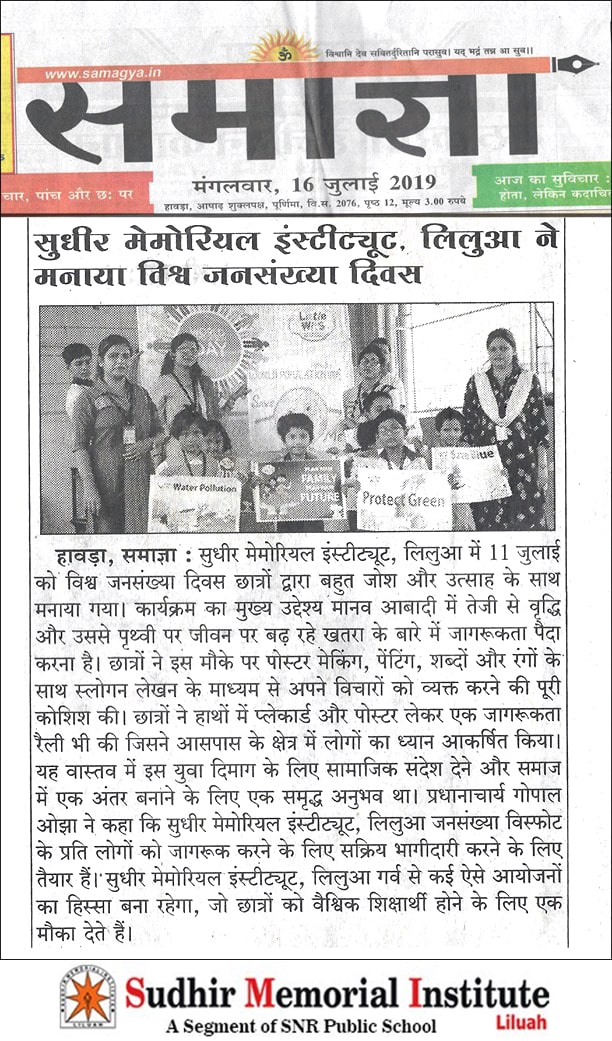 "Our belief is our Success" At SMIL we believe in working extra co-curricular with our students to create them future global and responsible citizens who are not only well educated but also well shaped and cultured and that made us best School in Howrah.
Co-curricular activities take what students are learning in the classroom and build them good competitors and performers in the future.
"Sudhir Memorial Institute" the best school in Howrah, inaugurated the attention Rally on the eleventh July 2019 across the city to mark the globe Population Day celebrations with nice enthusiasm. It was a campaign in order to raise awareness about global population issues.
Our main motto of organizing this campaign is to make citizens understand that "Excess of anything is bad",  Which also impacts the Population. Our Little students embrace the organizing activities in a cultural and intensive manner. Well deserves activities have been delivered by the students of SMIL such as: spreading messages in aspects of the ill-effects of the increasing population through placards, slogans, painting, writing, and small skit were held.
Co-curricular values play a very significant role in process of making students well responsive.It makes them learn different values in the modern and up-coming societies of India. For the all-around development of the personalities of the students, co-curricular activities are considered to be very important nowadays for every school in howrah.
We SMIL deeply analyzed the importance of co-curricular activities. Basically, when a child has had a full day at school and comes homes tired and hungry, He will then go out for some extra co-curricular activities. This can include many things and also depending on the child's interest like Music, Dancing, Musical Instrument- Guitar-Tabla- Keyboard, Creatives Arts, Language Learning, Events, and cultural performance. These clubs and activities encourage our students to take deeper into activities and subject areas that they're captivated with. Across all the innovation, extra-curricular, or co-curricular activities, our primary goal is to incite passion and provide a fun way for students to discover and embrace the spirit of relentless learning, inner as well as outer the classroom, so they can gain totally different interests, passions, and personalities. This makes "Sudhir Memorial Institute" the best school in Howrah. 
The other good thing about extra-curricular activities is that after a day of learning in a classroom, children need to be able to let off steam. Unwinding by doing something creative and fun is a great way to do it. Through these activities, many values can be inculcated profitably. Co-curricular activities form an integral part of the modern school curriculum. They should be made more and more purpose and fruitful as well as value-oriented with the democratic base and purposeful pursuit. This can be done, provided children have an opportunity of having a living experience of moral life through these activities.
Last but not least We are truly grateful by the little members and teachers for organizing this big event and making the citizens aware of the fact that the Population could be a threatening storm in the future. We must take important lessons in order to control the population of India and should focus on rising India rather than falling growth and development. "Sudhir Memorial Institute" best school in howrah can invariably be pleased with our students for creating it best faculty in Howrah and appreciating for taking participation in such major events once more and once more.