With the rise of the 21st century, India is becoming digital in every field. There are lots and lots of things that have become digital. It is known as the digital era. And in this world of digitalization, people are becoming too digital. So, why would education keep itself apart from this new technology? In this blog, you will get to know about the best CBSE school in Howrah from where you can grow digitally with the new generation of the education system. English medium schools in Howrah is using social media in the teaching-learning process to find new value for creating suitable learning among students.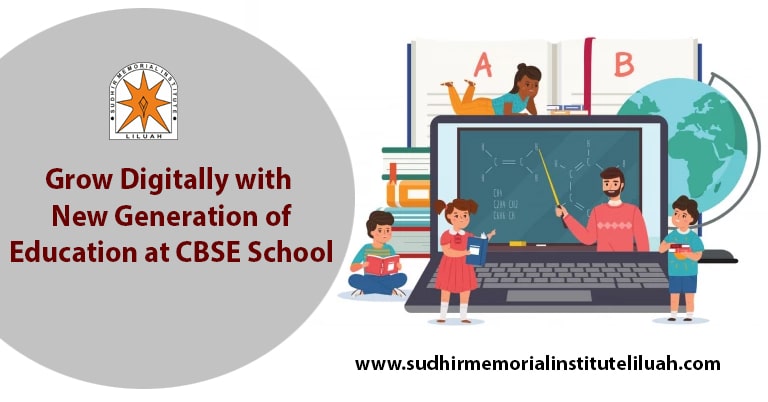 Technology has drastically increased at a fast pace developing new gadgets frequently. From a young age to old age, we see everyone using electronic gadgets such as TV, mobile phones, laptops, tablets and so on. Technology has replaced human life in various ways including studying. Yes, studying, there are students who also use these gadgets to make their study strong and learn new things and concepts apart from textbooks. With the impact of technology in education, we are seeing lots of changes in the teaching methodologies of educational institutes these days.
Although there are lots and lots of English medium school in Howrah, which provide digital learning, you need to pick out the best one. So, without wasting much of your time, let's have a short introduction about the best CBSE School in Howrah – the Sudhir memorial institute.
It is an English medium school in Howrah with a CBSE based curriculum. It has a smart classroom that makes learning fun through the use of digital equipment. Students of all grades and disciplines can benefit from digital devices,
You will also know about some of the positive and negative influences of digital media on education. Students are hereby requested to keep those in mind and never do anything wrong while studying.
The positive influence of digital media on Education
In the digital world, the learners are very different. They think and act differently. New age learners are more interconnected and better informed.
As a positive influence of digital media, it is easy to work together with geographically distributed teams for project assignments using social networks. Social media helps in enhancing creative skills in children. With the advanced use of social media platforms in English medium schools in Howrah, the students are encouraged and motivated to learn. The use of youtube to watch educational videos, easy access to eBooks, online notes, and learning via video calling are some of the major aspects which contribute to educational development. In fact, students can join many online groups of different subjects and can gain knowledge from the same.
Another positive influence of social media is to enhance students' academic performance and increase their knowledge through data and information gathering. Studying takes less time with electronic gadgets. Learning with technological devices is also a popular technique adopted by the best CBSE school in Howrah.
The negative influence of digital media on Education
Digital media also has negative effects on students. They are getting addicted to this medium. They are getting distracted from the actual aim in life. Excessive use of social media is distorting communication skills. They fail to frame grammatically correct sentences while communicating.
Conclusion
Hence, such transformational changes due to digital media are bound to take education to a higher level. So, CBSE school admission in Howrah is in process. Enrol yourself on the best CBSE School in Howrah to grow digitally.