In today's world, it is hard to believe a person living without the use of the Internet. Technology simplifies our life and saves our time if we use it in the right way. Covid-19 pandemic impacts on everyone but in these days we can see the rising of uses of technology which somehow helps individuals to continue their work and study. The excess use of technology also makes students addicted towards its using rather than being controlled by it. This leads to an obsession with using mobile, desktop, laptops, and others. However, we can find the best digital education that impacts the knowledge and literature of the students that brings good academic records to some of the best CBSE affiliated school in Howrah. Now discuss the impact of digital technology for students of CBSE School that help in raising their educational journey.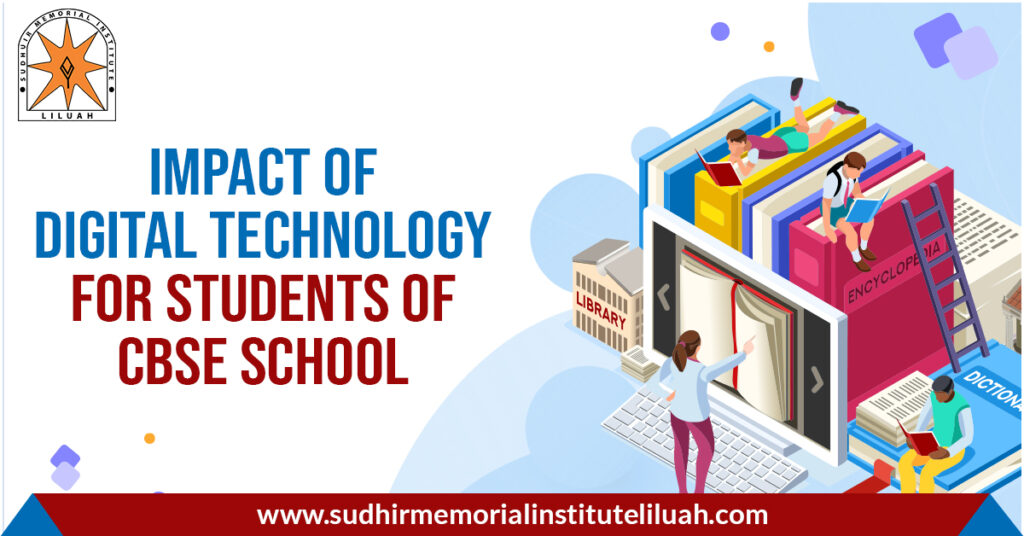 Consequences of digital education:-
One study shows a clear message. The class teacher commented that the students are unable to keep in contact with their gadgets while taking an online class because they are obsessed with mobile gaming and social media, chatting.
Another research shows that the ability to focus not only on study but also on a single task has decreased and is worsening day by day. They are spending too much time on social media and gaming which makes them tired both mentally and physically. Educators even commented they could not give attention properly in class and they found themselves playing games, watching videos, and obsessed with social media.
This 5-inch screen definitely simplifies our life. Everything is literally at our fingertips. Many teachers reported the declination of keenness on reading, cognitive thinking also has reduced due to excessive use of gadgets.
Excessive use of mobile causes lack of sleep. Medical research shows the change of sleeping pattern causes severe tiredness, headache, depression.
This addiction to mobile phones decreases their focus and they couldn't pay attention to study.
Not only mental health but also physical health also decaying. Lacking outdoor activities can cause several health issues later.
Despite the excessive use of mobile, they are lacking basic skills in computer
Cybercrime is increasing nowadays.
Among the positive side:
According to some educators, technology improved their teaching skills and learning skill. Some of them said that it has enabled the opportunity for inquiry-based learning and it simplifies self-study because everything is at one's fingertip.
For the students of remote areas are getting an opportunity to access the internet which is upgrading their knowledge sitting at home. They can able to access a lot of e-books and audio books.
It gives students to express their creativity in the world. The best English Medium School in Howrah provide the best opportunity for the students to innovate their skills.
The Google powerful search engine easily gives answers to every question and query.
Technology taught students and enables them to visualize easily which has never been taught in school.
Students can download some apps which are easily available in the google play store through which they could learn how to improve their skills, better time management skills, etc.
Out-of-the-box thinking: YouTube is the platform where students can watch videos to gather knowledge.
There is a number of educational websites where the students could get adequate information and plenty of resources.
Conclusion:
Hence, these are the prime steps discussed the impact of digital technology for students of CBSE School for their best growth and development. This growth and development can be more effective once you enrol your child on the top School. Get CBSE School Admission in Howrah best education and curriculum activities. However, it is also the prime responsibility of both the parents and the teachers to control their child on accessing the use of the Internet. Make sure to input the limitations on using Mobile, Laptops, desktops, and other gadgets. Also, control watching videos, cartoons, sports, and other entertainment channels on a daily basis. This process enables your child to lead a healthy relationship with the internet and technology.