As you all know, a good education these days is very essential for everyone. The main task of parents is to choose the best education board for their child. Though CBSE and ICSE boards are different in respective manners, they have a huge importance in a child's life and career. This blog will be helpful for those, who had chosen the CBSE schools for their child's progress.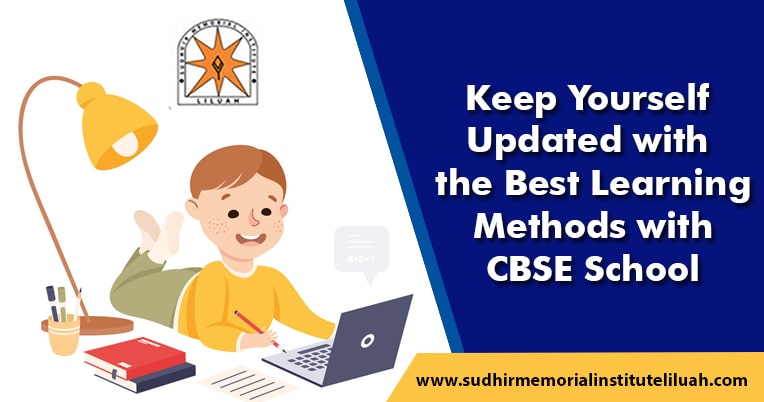 A child's progress is seen during his/her entire school life -what the particular school is teaching its students, how the child develops his moral progress, about the best learning methods and strategies adopted by the best CBSE School in Howrah.
Now the question arises here – how will one keep them updated with the learning methods with CBSE School? The answer is quite simple- by enrolling yourself at the best CBSE School in Howrah. Yes, you may enrol yourself at Sudhir memorial institute and get CBSE school admission in Howrah. 
It is one of the highly reputed and best English medium schools in Howrah. What to say about its learning methods and techniques- it's excellent!
There are some modern learning methods adopted by the best CBSE School in Howrah. Few are given below.
Collaborative learning: Collaborative learning is the educational approach of using groups to enhance learning through working together. Here learners work with each other on projects, where they must collaborate as a group to understand the concepts being presented to them. This type of learning is beneficial for the student and helpful in learning faster. Sudhir memorial institute is the best English medium school in Howrah that creates the best learning environment for their child to learn broadly.
Spaced learning: Space learning is a learning method in which highly condensed learning is repeated three times. Spaced learning is the key to knowledge retention. With this approach of teaching, learners can retain the information taught in the course. It is an easy learning method with fewer loads. Spaced learning makes the learning concepts more interesting.
Self-learning: Self-learning is a method of garnering information and processing and retaining it without taking the help of another individual. Students always prefer to study on their own with the help of modern teaching methods hassle-free. With the advent of the internet, you will find thousands of materials for any of the topics you want to pursue.
Crossover learning: Crossover learning is the best type of learning which effectively engages learners and provides authentic yet innovative results.
In this digital era, some of the traditional methods of teaching are still followed in the best CBSE School in Howrah.
Classroom are teacher centric
The chalk talk method is prevalent
Strictly organised and controlled classrooms
Clearing examinations are more important than grasping knowledge
Homework based education
Some of the modern teaching methods of the best English medium school in Howrah are with the help of new gadgets like computers or laptops with Wi-Fi connections, LCD projectors, and interactive whiteboards.
Conclusion
After a detailed study of different learning methods with CBSE schools, one can easily grasp the knowledge with this blog. CBSE school admission in Howrah is open for the session 2022-2023. You may visit the website for further information.