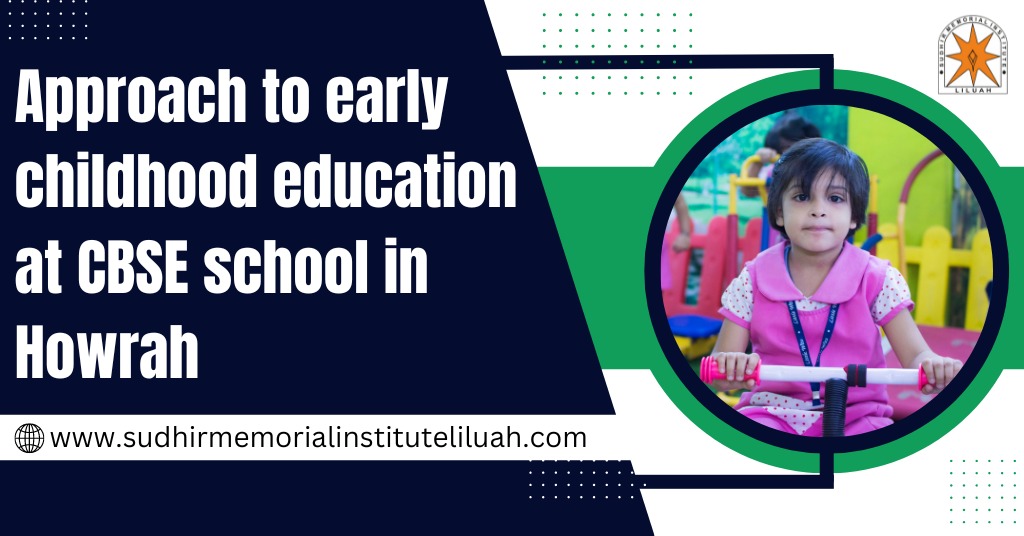 Introduction
Education from the beginning or from early childhood prove very important for the child from the child's birth, they all began to start learning. Early childhood plays a crucial role in a child's overall development and sets the foundation for their future academic success. If you also as a parents want to make your children successful for their upcoming future, you should enroll them to one of the Cbse School in Howrah. To know more, kindly read this blog.
Sudhir Memorial Institute Liluah as one of the best school in Howrah understands the significance of this critical phase in child's life. Let's explore the importance of early childhood education and how the top school in Howrah excels in providing a nurturing and stimulating learning environment.
Child centric philosophy
Play based learning
Curriculum design
Experience and trained faculty
Emphasis on social and emotional development
Parent involvement
Assessment for learning
Child centric philosophy
At our CBSE School in Howrah, we follow a child-centric approach to early education. We understand that every child is unique, with distinct learning styles, interests, and capabilities. Our curriculum and teaching methods are designed to cater to these individual differences, ensuring that each child receives personalized attention and support.
Play based learning
We recognize the importance of play in a child's early development. Play is a natural and powerful way for children to explore the world, develop problem-solving skills, and build social connections. Our early childhood education program incorporates play-based learning to make education enjoyable and engaging.
Curriculum Design
Our curriculum for early childhood education is carefully designed to provide a balanced blend of academic and non-academic activities. We focus on building foundational skills in subjects like language, mathematics, and science while also nurturing creativity through art, music, and physical activities.
Experienced and Trained Faculty
Our dedicated team of educators is trained in early childhood pedagogy. They understand the developmental milestones of young children and create a supportive learning environment that encourages curiosity and exploration.
Emphasis on Social and Emotional Development
We believe that social and emotional development is as crucial as cognitive development. Our programs promote positive interactions, empathy, and self-awareness among students. We create a safe and inclusive space where children can express themselves freely.
Parent Involvement
We value the partnership between parents and the school. We encourage parents to actively participate in their child's education journey by providing regular updates on progress, hosting parent-teacher meetings, and offering resources for continued learning at home.
Assessment for Learning
Our assessment practices are formative in nature, focusing on understanding each child's progress and identifying areas where they may need additional support. We believe in the continuous improvement of both students and teachers.
Let's learn more about some of the developments seen in students. They are as follows –
Cognitive development
Children brains are rapidly developing during the early years. So, it's very important to teach them the very important and required things. Sudhir Memorial Institute Liluah as the top school in Howrah offers a well-designed curriculum that combined play based learning with structured activities. Our experienced and trained teachers fostered curiosity, critical thinking, and problem solving and language development
Social and emotional development
Early childhood education is crucial for fostering social and emotional development in children. It helps them develop essential social skills such as sharing, cooperation, empathy, and effective communication. At the best school in Howrah, we create a warm and inclusive environment where children feel safe and valued. We encourage positive interactions, collaboration, and teamwork through group activities, role-playing, and collaborative projects. Our dedicated teachers promote emotional intelligence, self-regulation, and resilience, enabling children to build solid foundations for healthy relationships and emotional well-being.
Physical development
Physical development is a vital aspect of early childhood education. Active play and structured physical activities promote gross and fine motor skills, coordination, balance, and physical fitness. Sudhir Memorial Institute Liluah understands the importance of physical development and provides ample opportunities for children to engage in outdoor play, sports, yoga, and other physical activities. Our well-equipped play areas and sports facilities ensure children have a healthy and active lifestyle, positively impacting their growth and well-being.
Language and literary skills
Early childhood education lays the groundwork for language and literacy skills essential for academic success. At the best school in Howrah, we focus on developing strong language skills through storytelling, phonics, reading, and vocabulary-building activities. Our language-rich environment encourages children to express themselves confidently and develop a love for reading and writing. With the support of our dedicated teachers, children acquire language fluency, listening skills, and comprehension abilities, enabling them to excel academically in the future.
Conclusion
In our CBSE School in Howrah, early childhood education is not just about preparing children for the next grade but laying the foundation for a lifetime of learning. We are committed to fostering a love of learning, nurturing young minds, and helping children become confident, well-rounded individuals who are prepared to face the challenges of the future with enthusiasm and resilience.