Education is the key to success. It is the foundation of our goals and ambitions. Education has also spread widely in the modern generation. It has different techniques to provide knowledge and education to our students. Nowadays the most common terms that come into the form of success is Online Competitions. It plays a significant role in the cultivation process of education, knowledge & Success. Holistic development of the students in all the domains i.e., cognitive domain, affective domain, and the psychomotor domain is the responsibility of the education system at school. The online competition is divided into two terms "scholastic and co-scholastic techniques". Let's find out the various importance of online competitions for students and how it is helpful for students in various howrah cbse school.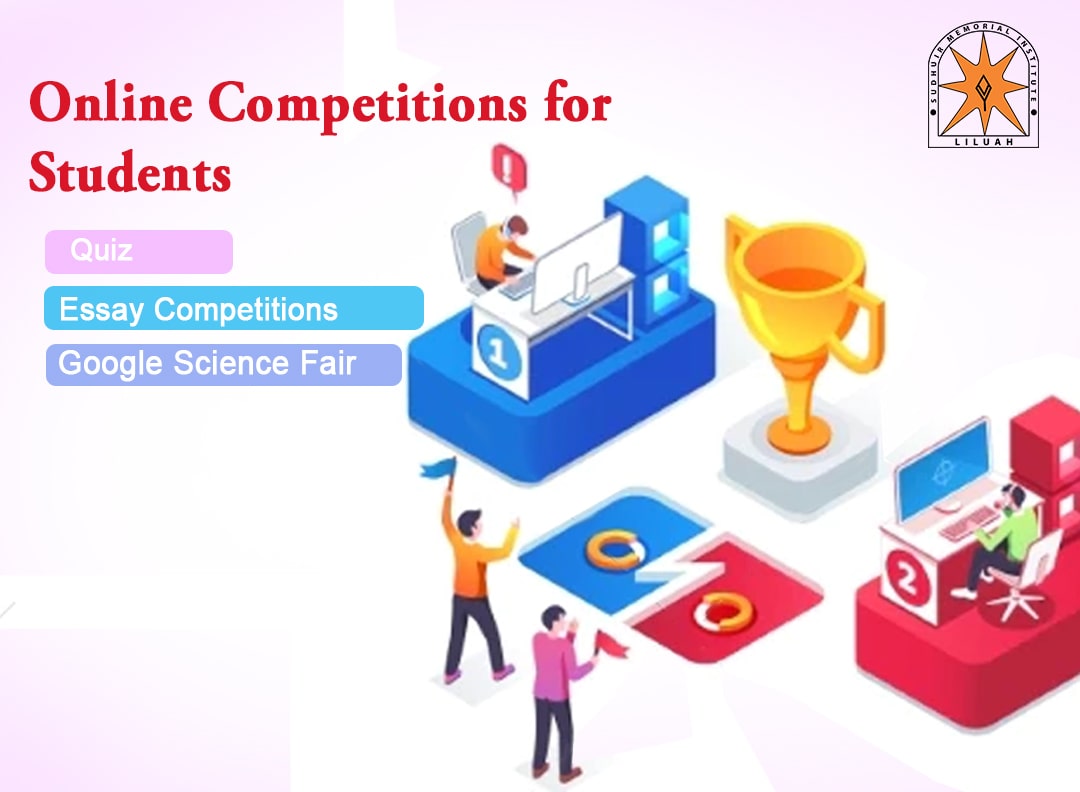 Importance of Online Competitions
Today's education system consists of scholastic and co-scholastic programs. To analyze and evaluate the performance and learning of the students several scholastic and co-scholastic techniques are used, competitions are one such unique tool to test the learning on the part of school students. Competitions are certain techniques that innovate the skills of students. It is an effective tool that teaches the power of students' capacity. Various top CBSE school in Howrah implements the formulae of online competitions to develop the learning process, creativity, confidence, and various other skills. Online Competitions also provide a wonderful opportunity for school students to showcase their innovative talents and skills.
In the fast-growing nation, Technology improvised its quality and achieved success in various jobs, businesses, hospitals, industries, etc. Therefore, how education and evaluation could lag behind this success? This generation of students is so tech-friendly that they love to spend most of their time around screens. In order to showcase the talent, every best school in howrah organized online competitions for students. It is also a genuine and reliable method of exploring and innovating the talent of students. Hence, the students get appreciated and awarded for their innovative talents and skills.
Different Online Competitions for School Students
There are various topics that cover different zones in the commencement of online competitions. Some of the English medium school in howrah only focus on the educational process and some of them focus on education and also on other co-curriculum activities to grow-up students broadly. The different online competitions for students are divided into two categories below.
 Scholastic category
This category includes online competitions like quizzes, essay competitions, creative writing competitions, science fairs, debates, and other technology-related competitions.
Co-scholastic category
This category includes online competitions like art competitions, photography competitions, dance and singing, and acting competitions.
Scholastic Online Competitions for School Students
Quiz
Online Quiz competitions can be performed at various platforms. It covers different categories of subjects to display the knowledge of students in various knowledge fields. The quiz competitions organize according to the students' age group or standard. The students enroll through online forms and then appear for an online quiz where they have to answer a set number of questions in a limited frame of time. The winners receive different prizes, trophies, etc.
Essay Competitions
Essay competitions are also an important online competition in form of creativity. It also displays students' various talents like Memory power, writing skills, speed of handwriting, forms of handwriting, and the position of the proper word. The students write a descriptive essay on the hot topics and problem areas in the given frame of time.
Google Science Fair
It is a global science and engineering online competition for school students where students are needs to submit an extraordinary science or engineering-related project, either individually or in a group of three.
Stem Video Game Challenge
This online competition technique gives an opportunity for the students to showcase their engineering skills and talent. An online video game also helps to boost the minds of a student. It also helps in running the minds of a student quickly. The brain of students starts working fast with the help of a video game. Therefore, the use of technology in video games innovates creative brains to design an original and unique video game to win online competitions for school students.
Co-Scholastic Online Competitions for School Students
Geographic Student Photo Competition.
Art Contest.
Science exhibition.
Artistic Competitions.
Drama.
There is no limitation of opportunity for aspiring students' success. The creative minds find the opportunity and welcome it. Therefore, online competitions for students are such opportunities to be live-in. The students, as well as the institution and society as a whole, get beneficial. With the process of online competition students also finds solutions to several problems and get many innovative ideas for society.