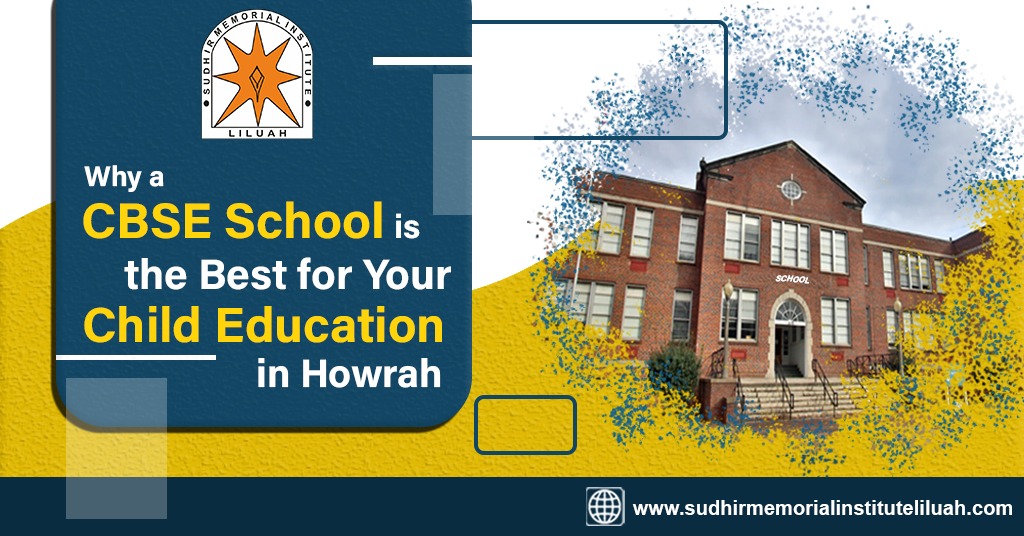 Nowadays most guardians look for a good CBSE school for their child. CBSE School matters a lot for any child because it provides a suitable platform from which a child can grow and nurture their skills.
Choosing the best education board for kids in the initial years of academic learning is crucial, as it defines their overall development. CBSE or Central Board of Secondary Education is one of the most preferred boards of education in India which covers most schools all through states.
One such famous and well-established best English medium school in Howrah is Sudhir Memorial Institute Liluah. It has English as well as Hindi medium languages for instructions. The teachers are well recognized and well established and behave with their children in a very friendly manner. In spite of this, additional facilities provided by the best CBSE School in Howrah are smart digitalized classrooms, audio-visual room, computer lab facility, library room, ground plan, co-curricular, and co-scholastic activities.
Here are some of the reasons which are given below why CBSE-affiliated schools in Howrah are best for your child.
Recognized by the Indian government
Uniformity throughout the curriculum
Focus on languages
Global recognition
Prepares for competitive exams
Easy exam pattern
Focus on overall growth
Recognized by the Indian government:-
The Indian government recognizes CBSE as a national-level body of education. It means that the curriculum for different grades is organized according to the Indian government guidelines.
Uniformity throughout the curriculum:-
The curriculum of the best English medium school in Howrah is organized by the NCERT. It maintains uniformity throughout the curriculum. The board permits its students from both affiliated and nonaffiliated schools and among all Sudhir Memorial Institute is the best CBSE-affiliated school in Howrah.
Focus on languages:-
The best English medium school in Howrah focuses on English and Hindi languages equally. Most of the CBSE schools also focus on languages like German, French, and Spanish. This gives an advantage to students who wish to apply for further studies in foreign countries.
Global recognition:-
The CBSE curriculum is recognized by almost all the international universities across the globe. A CBSE student will never face any problem while applying for a higher course abroad. In fact, there are several schools in various foreign countries offering the CBSE curriculum along with others.
Prepares for competitive exams:-
The teaching methods have evolved drastically as competitive exams have become more important in the curriculum. Every parent wants their child to be prepared for competitive exams such as JEE, AIEE, etc. Choosing the best CBSE School in Howrah that has a broad curriculum provides the extra benefit of learning more ahead of the numerous competitive exams. CBSE syllabus is designed to prepare students for entrance exams such as the IIT-JEE, AIEE, and AIIMS. This gives CBSE an advantage over other boards.
Easy exam pattern:-
Exams in CBSE schools follow a set schedule that prioritizes the student's knowledge. Since all of the questions demand direct responses rather than elaborate stories, marks are awarded for all the steps instead of the full correct answer.
Focus on overall growth:-
The best CBSE School in Howrah focuses on the overall growth of children and ensures the mental and physical development of their students. The school encourages children to compete in a variety of competitions outside of their academics and to pursue their passions in other areas as well. CBSE curriculum incites curiosity among students and allows them to explore.
Conclusion
Hence, it has been proved that Sudhir Memorial Institute is the best English medium school in Howrah for your child and by the above reasons mentioned, you will get to know the answer. Visit the official website and enroll your child here.