Are you concerned about the right kind of institution for your child or ward? Well, worry no more as you have got a proper institution to serve your children or wards in all their needs. The name of the school is Sudhir Memorial Institute, Howrah, and it is considered one of the best CBSE affiliated schools in Howrah for multiple reasons. If you want to know about these features, then have some patience and read this blog to find out some tips and tricks to find out the best school for your child or ward and then know about the perks of Sudhir Memorial Institute as an academic institution that can serve the needs of a pupil in efficient ways.
Every year, a number of parents search for the best schools for their children. As a matter of fact, it is a genuine cause of worrying in many parents because they want their child or ward to get the quality of education that they haven't got for some reason. It can also be probable that the parents are looking for the kind of education that they deemed essential and has not yet found it in many other institutions. So, it becomes natural for them to find a trustworthy institution. Luckily Sudhir Memorial Institute can give them what they are looking for.
But, let us wait for a few more minutes again. Read on to know more about some of the factors that you need to keep in mind when you're choosing the right school for your children or wards. After that, you'll surely know what's important in Sudhir Memorial Institute, Howrah, and why do you need to get your children or wards admitted there.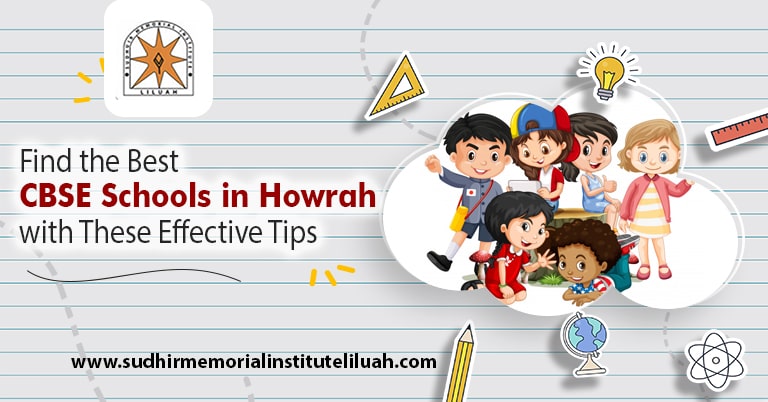 Check the Curriculum of the Board
It can be highly possible that you want your child to be admitted under an educational system that can be 'understood and grasped' easily. In this case, it is advisable for you people that you choose the CBSE schools ad the CBSE curriculum isn't that tough for young kids. Moreover, the diversity in the educational package it offers also helps a student to learn more comprehensively than usual, which guides him or her to be more generally aware of the reality and the society he or she lives in. It has also been stated that CBSE schools have been recommended to people who look for scoring good in competitive examinations be it for education or for jobs. If it is a school with the easy but effective education you are searching for, then go with the CBSE schools without thinking again.
Are You Getting Enough Facilities
As a matter of fact, privilege is something that a student needs the most. If he or she is a very young student, then educational facilities is a must.
You must check if the school you are targeting has enough facilitations for educating your child or ward in a comprehensive way. Education isn't just pen and papers and there are much more to learn from an institution once you reached it. Start with skills. It is true that skills often help a person be established in life compared to the level of theoretical knowledge he or she possesses. The factor is that the more a student learns, the better he or she becomes at explaining things or understanding them.
But, does it make a student do better things?
The answer is probably 'no'.
All you need is skill boost up sessions where you can learn new things and discover your true potential to do things. This works out great for a young learner as the person goes through a journey of self-discovery and he or she is in the requirement of healthy and productive ways so that he or she understands his powers and capabilities to use them later in meaningful ways.
Luckily most CBSE schools have a good infrastructure for creating the best learning environment for a pupil. From improved laboratory equipment to the latest training on extra co-curricular activities – making your child get admission in CBSE schools in Howrah will surely help the person to prosper in life and discover the most interesting part of being a learner.
A Cooperative Management
If the school authority remains secretive about its actions and doesn't want to support you in your investigation about the student's development, then the school is not doing the right thing at all.
Moreover, you must have a healthy conversation with the management of the school only for the progressive betterment of your child or ward whom you have admitted.
So, the Management of a school must be stepping forward to have a conversation with you frankly and healthily no matter what.
Luckily, you get that at Sudhir Memorial Institute. Not only the administrative professionals, but the teachers here also go forward to make sure all of your doubts are cleared and your child learns being monitored by both the parents and the trainers.
To Conclude
Sudhir Memorial Institute is one of the best schools in Howrah with its other units located in different parts of Kolkata as well. You must know that the school has been praised for its exceptionally empathetic behaviour towards its learners. Its fee structure is quite affordable for general people only because the school believes in good quality of education and not financially evaluating it. So, if you are looking for a good CBSE school admission in Howrah, then choosing Sudhir Memorial Institute would be a good decision from your side.