Every parent wants his or her child to excel in every field of life. Reputed CBSE schools set the right path for their child's professional and personal success. Professional success is characterized by the child's cognitive development where they have good practical knowledge in their own field. The child must have the moral and psychological compatibility to deal with the ups and downs of life. A child learns about these things from family, friends and also from schools.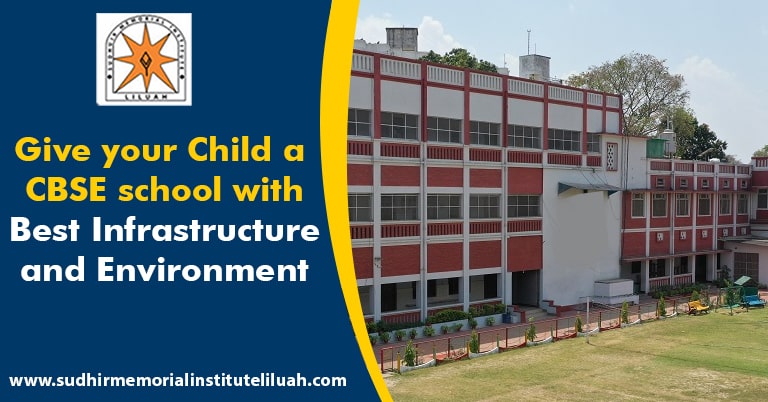 So, it's a huge responsibility of parents to choose for them the best English medium school in Howrah and provide them with the education which they deserve. Therefore, when we talk about a good CBSE school, we should make sure that they provide your child with an all-around development so that they receive the fruits of their highest potential.
Admission in CBSE Schools in Howrah is open for the session 2022-2023 from toddlers to class IX and XI respectively. We are talking about the best English medium school in Howrah – The Sudhir memorial institute. Having its medium in English with CBSE based curriculum, it is one of the top schools in Howrah, providing the best education to its students with safety and security of theirs.
Social skills are an integral part of functioning in society, so developing social skills among children is also one of the aims of the best English medium school in Howrah. But here we will discuss some of the services and facilities of the best English medium school in Howrah – Sudhir memorial institute.
It had a good infrastructure and a healthy environment suitable for a child to grow and develop easily. In Spite of this, some other facilities of the best cbse school in howrah are given below.
Introduction of digital learning having digital classrooms
Introduction of integrated scheme of education with the new policy of education
Smart classroom which makes learning fun
Sports area
Library, computer rooms and labs are too there
Ground plan
But here our main focus is on its good infrastructure and environment. So, let's concentrate on them, without wasting time. A school infrastructure means the civil structure, the superstructures, classrooms, libraries, playfields, facilities and amenities provided to the site in accordance with this Agreement, applicable laws and civil guidelines.
Importance of having a good infrastructure
Good school infrastructures with good spaces make it a good place for a student to study. The impact of educational spaces on the students set out to identify the empirical well being of the students in the best CBSE English medium school. It makes it interesting and gets children involved in the school, and motivates them to come to the school. This in turn improves the attendance and interest of learning in the best CBSE English medium school. Good infrastructure is important but at the same time, it should have an emphasis on child-friendly activity.
Importance of having a good environment
A big factor is air quality- studies have found that children who attend a school near a source of pollution have the worst best scores and attendance rates. Sudhir memorial institute, a top school in Howrah, does not have such. Best CBSE schools environmental factors are the internal conditions of the school that influence students' academic achievement.
Conclusion
Hence, to conclude Sudhir memorial institute Howrah is known as the best CBSE English medium school serving for many years. And known as the top school in Howrah. For further details, you may look at its web page and enrol your child's name here.